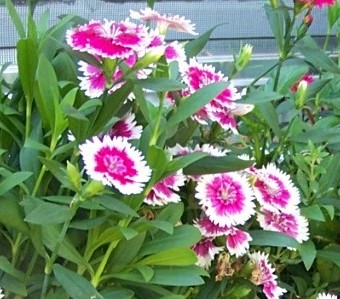 Sweet William is a biennial that belongs to the Dianthus family, which also includes Carnations and Pinks. It features low mounds of grass-like foliage with cheery pink, red, purple, white or violet flowers which are often bicolored. It is a wonderful plant for rock gardens, containers, edging, mass plantings, borders, and meadows. It makes a long-lasting, fragrant cut flower, and is an excellent choice for dried flower arrangements. It has a mild, sweet, clove-like scent when brushed. The flowers are edible and also have a clove-like taste.
Sweet William will perform in almost any soil, as long as it is well drained. It prefers full sun in all but the hottest areas, where it should be given part shade. It does best in cooler weather, especially in the south, but given the right conditions it will survive a hot summer. It appreciates a feeding every 6-8 weeks with a balanced fertilizer, and deadheading to prolong bloom. Sweet William is an excellent plant for attracting butterflies, and should be considered for a Habitat type of gardening situation.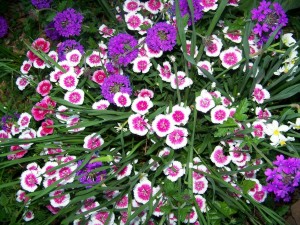 Sweet William can be propagated by division, stem cuttings, or seeds. If planting seed directly in the garden, flowers will not appear until the next year. However, for same-year flowering, seed can be started indoors 6-8 weeks before the last expected frost. Stem cuttings should be taken in spring or early summer, but will not produce bloom until the next year. For older clumps that have lost their vigor, dig the entire plant with a pitchfork and pull the plants apart at the roots. Replant, and keep thoroughly watered until they become established.
As a note, I do a lot of container plantings and I happened to put some Sweet William in a window box a few years ago. It has stayed green all year in my zone 7 climate with attractive grass-like foliage and early spring bloom. It now cascades beautifully down the side of the window box, and even when not in bloom, helps make the box look permanent and professionally done. I tuck annuals in to provide color during the hot summer. Admittedly, I forget to water the window boxes sometimes, but as an established plant, the Sweet William really doesn't appear to suffer at all. It has performed so well that this year I added Sweet William to every window box I have and will just add seasonal color as appropriate. Though it is supposed to be biennial, mine has never declined or died out. This may be because it is dropping seed or because it is spreading, or it may just be my climate and its position. Regardless, if you haven't tried this plant in containers, you are really missing a gratifying, easy care show that very well might make it through even a cold winter in sheltered areas like window boxes.
More information on Sweet William is available in the Gardening QA Section. Click here to see what other gardeners are asking.
Custom Search