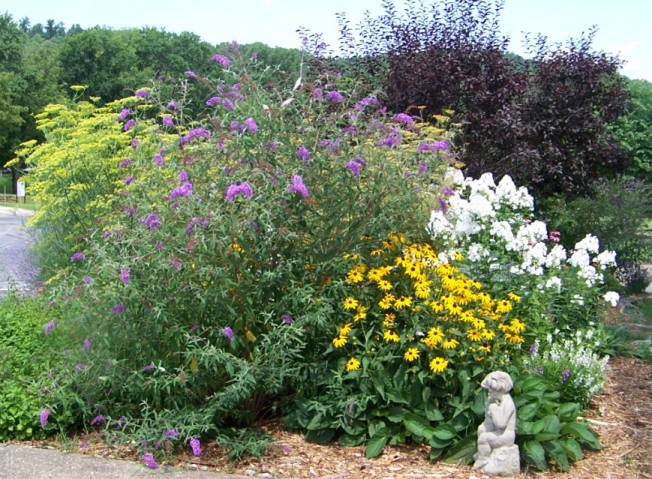 Perennials are plants that bloom for 4-6 weeks during spring, summer, or fall. They die off during the winter, but return when the weather warms. They are a little trickier than the annuals because of the shorter bloom times, but when done right, they have show-stopping, not to mention fairly carefree impact.

The trick with perennials is to use several kinds together to prolong the show. To accomplish this, you have to know quite a bit about both the plants and your particular climate. I've never been real good at this, and as a result, my perennial garden has never been the greatest thing on the block. A few years back, however, I decided to put in an island bed. I tilled and then went shopping for something to fill this rather large area with. I found a canister of mixed perennial seeds designed to bloom all season, and WOW, did it ever work. I sprinkled the seeds out there and raked them in and forgot about them. Starting around April, I had the most beautiful Dame's Rocket and Poppies you could ask for, and lots of them. Then Dianthus, Bachelor's Buttons, Evening Primrose, Shasta Daisies and tons of other stuff. That island bed is now a traffic stopper all season, and I have done little to nothing else except occasional weeding for maintenance and ordering new varieties as the mood strikes.
Perennials are the garden plants that make for big business for mail order and internet companies. Local home and garden outlets tend to have somewhat limited selections, so buying through the mail or over the internet is the only way to get some varieties. Perennials tend to be quite a bit more expensive than annuals, but you get a plant that will perform year after year, and sometimes spread as a bonus. When starting a new perennial bed, don't overlook seed, which is cheap and easy, and do visit the internet merchants and look through paper catalogs to make plant selections. Most of us can't afford to plant a large perennial garden all at once, and therefore adding plants over time is usually prudent. As such, the perennial bed - more so than any other type of home gardening endeavor - is always a work in progress. Annuals can be used as fillers in the interim, making for a wonderfully changing scene as the seasons go by.

As a note, in some cases, individual perennials may also grow as annuals and biennials, and many are important herbs. In these cases, I have listed them in multiple categories so they won't be overlooked. This is a large website, and it is very difficult to cross-reference everything and still have room for the subject matter. I have done my best, but don't forget about the backspace buttons if you find yourself in an unintended category.
Custom Search