Detailed Vegetable Profiles
---
Site Map
Home
Annuals
Architectural Elements
Backyard Habitat
Biennials
Bonsai
Bulbs
Cactus/Xeriscaping
Companions
Composting
Container Gardening
Crafts
Gardening Q/A
Garden Ornamentation
Gargoyles
Greenhouses
Ground Covers
Herbs
Houseplants
Insects/Diseases
Landscaping
Organics
Perennials
Ponds
Propagation
Recipes
Roses
Seeds
Shade Gardens
Shrubs/Hedges
Tools
Trees
Vegetables
Vines
Weeds
Wildflowers
Wildlife
Shop Gardening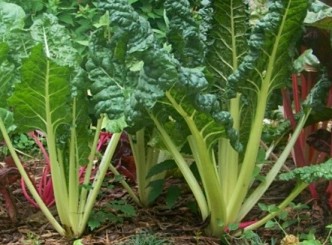 Why grow a home vegetable garden?

There are so many reasons to have a home vegetable garden, no matter how big or how small, that it is hard to list them all. First, there are the obvious reasons - eating healthful foods, saving money on groceries, blah blah blah. Several decades ago, almost everyone had a backyard vegetable patch. Neighbors would compare notes and have competitions to see who would have the first ripe tomato of the season.

Life is busier now, and outdoor spaces have become smaller. But this doesn't mean you can't enjoy fresh, organic produce from your own yard or balcony. It can be as easy as tossing a few seeds into a container or it can be a large enough plot to feed the neighborhood. One of the nice things about growing vegetables is that you can decide how much or how little you want to grow. Once you have some successes, however, you will undoubtedly want to move up to a bigger plot.

Vegetable gardening is a way to ease children into eating healthy foods. They love the idea of planting a seed, watching it grow, and then harvesting and eating the fruits of their labors. What they learn from this experience they will carry for the rest of their lives in respect for the earth and healthy living.

Lastly, vegetable gardening is gardening with a purpose. You plant what you like and then consume it. The taste beats anything you can buy at the store. You get outside, at least for a little while and get exercise and sunlight, and dirt between your fingers. It's a mind-body-soul thing that doesn't have to interfere with a busy lifestyle.

Anyhow, enough bandwagoning for now. This section is about vegetable gardening, and we will start first with the vegetables themselves. I am compiling lists and will publish them as they become available. Meanwhile, closely related subjects include Companion Planting and Herbs. Herbs are natural counterparts to vegetables and can be interplanted with them to achieve various goals. Check out the Gardening section of retailers to find suppliers for everything you might need, or to find that perfect gift for someone else. This page is updated daily, so be sure to Bookmark and return often.
Custom Search
---