Related Topics
Choosing an Appropriate Container
---
Detailed Profiles on Suggested Container Plants

---
Site Map
Home
Annuals
Architectural Elements
Backyard Habitat
Biennials
Bonsai
Bulbs
Cactus/Xeriscaping
Companions
Composting
Container Gardening
Crafts
Gardening Q/A
Garden Ornamentation
Gargoyles
Greenhouses
Ground Covers
Herbs
Houseplants
Insects/Diseases
Landscaping
Organics
Perennials
Ponds
Propagation
Recipes
Roses
Seeds
Shade Gardens
Shrubs/Hedges
Tools
Trees
Vegetables
Vines
Weeds
Wildflowers
Wildlife
Shop Gardening
---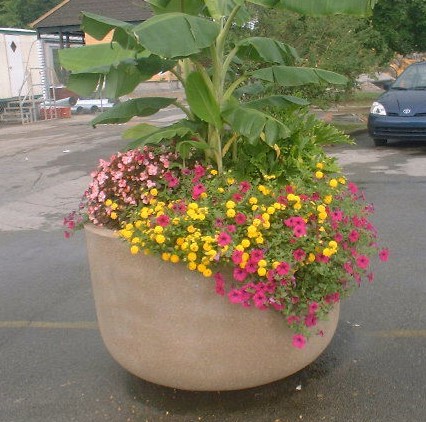 Container gardening is one aspect of gardening in which every member of the household can contribute. Gardening in containers is easy, fast, fun, and rewarding. Most of us have had our pots of petunias and pansies over the years, but few of us have explored the real extent of possibilities that exist in the realm of container gardening.

Gardening in containers can be as easy or as complex as the gardener chooses to make it. It's easy and decorative to place a potted fern on either side of the entryway, and many people are satisfied with just that. But then there are the rest of us. I want bold, colorful, and diverse, and I also want to experiment and be creative. With container gardening, I can have all this and more. If something doesn't work, I can try again, which is much more difficult with in-ground plantings. I can mix and match, and try out different color schemes. And don't forget about using potted plants to fill in bare spaces in the annual and perennial gardens to keep them spectacular all season long.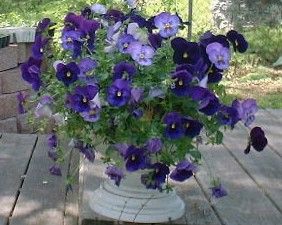 Whether you have an apartment or a house on 20 acres of land, there is some form of container gardening that is perfect for you, be it window boxes, a balcony vegetable garden, or just a corner of the yard packed with blooms that would be hard to maintain in the ground. Don't forget also, that some of the more invasive plants that you normally wouldn't introduce into your yard can be grown with abandon within the confines of a container. Chamomile and Mint are two such plants that come immediately to mind. Maybe even a whole herb garden right outside the door on that bare patio for spicing up treats from the kitchen. The possibilities for combinations in container gardening are only limited by the gardener's imagination. Just about any plant that you can grow in the ground will grow even better in well-kept containers, so never hesitate to try something new.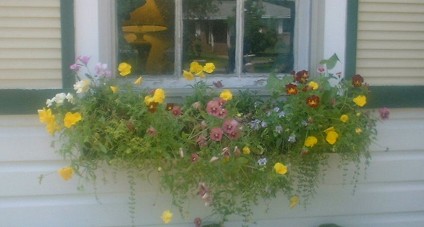 In this vein, this section of Gardens Ablaze will deal with the plants, placement, and how-to's of planting successful container gardens. We definitely won't be discussing the "dos' and "don'ts", because there are no "don'ts." If you think it will work, try it! This is a work in progress, so Bookmark this site and return often.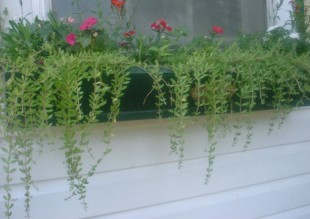 Above is a picture of one of my inexpensive but very successful window boxes this spring. Despite my best efforts, the picture doesn't really do it justice, but it contains Sweet William, Pansy, and Golden Carpet Sedum, which is a really wonderful plant for containers that spills gracefully over the sides and blooms little yellow stars in the spring. to the right is another picture of a less heavily planted box for a better look at how nicely this type of sedum overflows from the box.
As a note, most of the individual container plants listed above are also important annuals, biennials, and perennials. This is a large website, and it is very difficult to cross-reference everything and still have room for the subject matter. I have done my best, but don't forget about the backspace buttons if you find yourself in an unintended category.
Custom Search
---