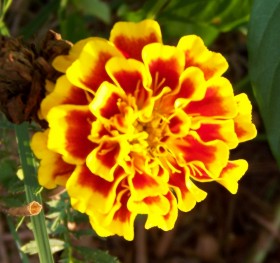 If you don't have a lot of time to fuss around in the garden and want bright, reliable, carefree color, take another look the Marigold family. These wonderful plants are not fussy about soil conditions, bloom continuously through the entire season, lend themselves well to mass plantings, borders, and containers, are one very best companion plants for all kinds of crops and other flowers, and make excellent cut and dried flowers for crafts or arrangements. Whew!
There are two basic types of Marigold commonly found in the garden centers and seed packets. These include the French Marigolds, which grow to about 18 inches and come in colors ranging from yellow to orange to a rust color in many different patterns and combinations. These make cheerful border plants for full-sun areas, and do well in small to medium-sized containers.
African Marigolds are taller, growing up to three feet or more, with big, rounded, bold flower heads mostly in orange and yellow. The sturdy stems and finely cut foliage make them well-suited to mid-border or mass planting situations.
Marigolds are one of the easiest bedding plants around as far as cultivation. Work the soil well and maybe throw in some compost for good measure, but otherwise do not go to a lot of trouble because they will do well in a wide variety of soil types. They do require full sun and will not bloom well if they don't receive at least 6 hours of sun per day. They are sturdy plants, and even the taller varieties will stand up to strong winds and hard rains. They will bloom from the beginning of the season all the way to the end if the dead flower heads are cut off every week or so. In mid summer, they may show some signs of slowing down, and at that point they could use a little general purpose fertilizer to perk them up again - choose a fertilizer that's not too high in nitrogen or they will put out more foliage rather than blooms. For container plants, fertilize monthly.
Marigolds are propagated by seed that is easy to sprout either started in flats 6 weeks before the last frost or directly in the garden. The seeds should germinate after just a few days. Thin the tall varieties to about 12 inches and the smaller varieties to about 6-10 inches.
Because of their musky smell that pests find unappetizing, Marigolds are widely used as Companion Plants for many other ornamentals and vegetable crops. It has been found that Nematodes completely clear out of an area that has had Marigolds growing in it. Please see the Companion Planting section for more information.
Taller varieties of Marigold make excellent, sturdy, long-lasting cut flowers for arrangements. Flowers do not air-dry well, but drying them in a mixture of borax (found in the laundry section of the grocery store) and cornmeal works nicely. Please see the instructions below.
Borax/Cornmeal Mix: Mix 1 part borax and 1 part cornmeal in a bowl. Use a tupperware container or box just a little bigger than the flowers. Pour some of the mixture into the bottom of the container, add the flowers, and then cover them the rest of the way with the mixture. Store in a cool, dry place and check every week or so until the flowers are completely dehydrated.
Custom Search