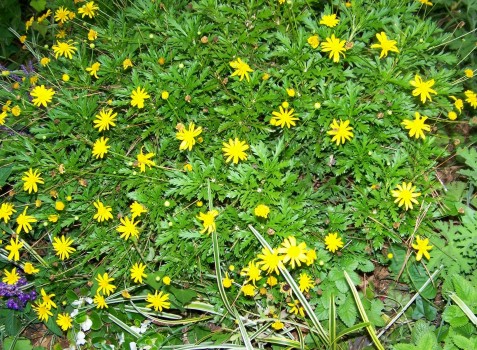 Euryops, yellow bush daisy, or African Yellow Daisy is a marvelous addition to any garden that has a well-drained, full sun situation. This is a plant that provides sunny, yellow daisy-like flower color against a mat of appealing finely cut green or grey-green foliage all season long to some degree (it does not flower as much in very hot conditions, but there will still be a few blooms). It is a tough plant that survives all but the most extreme warm weather conditions including moderate drought. Sadly, this plant is not winter hardy except in the most temperate regions (it's possible that it might survive in a sheltered area in zones 7 and 8, but no guarantees), but it is easily propagated by stem cuttings that can be overwintered inside, and is fairly readily available at garden centers in most places in the spring.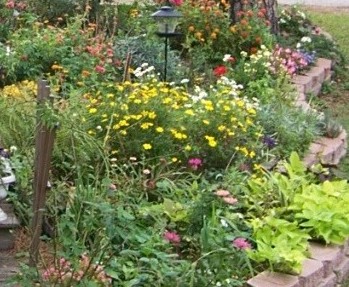 Euryops comes in a variety of shapes and sizes, from dwarf shrubs to small trees. The two pictured above are shrub-sized 2 foot wide by maybe 2.5 foot tall plants that I grew from store-bought plants in gallon containers. Keep an eye on Euryops for the first few weeks, as it will quickly wilt if it is not given enough water. In my situation, it acts as a barometer at first, telling me when the garden is in need of watering. Once established, however, Euryops will only wilt down in extreme cases and is quite drought tolerant. In fact, this year with the worst drought conditions I have ever seen in the south, my Euryops was the only thing out there that really didn't seem to suffer much, other than it didn't get quite as big and bushy as usual.
Whether planting rooted cuttings or store bought plants, dig a nice hole and throw a little compost in, then set the plant in with the soil line the same as it was in the original pot. Use some mulch to keep evenly moist, and water well for several weeks until the plant becomes established, and then let it go! Euryops looks good in groups of 3 and is a great filler for big cottage gardens, English gardens, or perennial gardens. There's virtually no garden scenario I can think of that couldn't use a shot of bright yellow all season long. Euryops is a nice, carefree container plant too, so don't forget to set a pot or two on the deck or patio, and the bright yellow flowers on wiry stems make nice reasonably long-lasting cut flowers. Maintenance is fairly easy - just cut off spent flowers now and again as you pass by to keep the plant healthy and productive.
Pests problems with Euryops are pretty much non-existent. The only real problem you might encounter is rot if you don't take care to plant in well-drained soil. Euryops will not tolerate soggy feet so prepare your soil well.
Suggestions for uses of Euryops include habitat type situations to attract pollinators, in gardens that need deer-proof flowering plants, as low borders, in sea coast areas (they are tolerant of salt air), or as container plants. This one is a winner, folks, and if you haven't tried it, seek a Euryops plant or two out next spring!
Custom Search