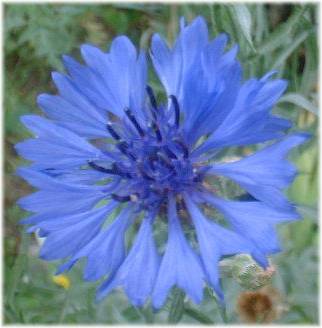 Cornflower, also known as Bachelor's Button or blue-bottle, makes a welcome addition to any garden if only for its sky blue color (though there are varieties in pink and white too). But this plant has many other uses including having sturdy, long stems for cut flowers, making attractive medium to tall backdrops for the perennial or wildflower garden, being extremely easy to grow, and having some benefit in the medicinal garden. Though the flower taste is rather bland, in my opinion, Cornflowers still make an excellent garnish for salads, entrees, and drinks.
Cornflowers are another member of the huge Aster family, and originate in Europe, where they are sometimes a nuisance in corn and grain fields, thus the name Cornflower. They have naturalized throughout much of the United States, and are a mainstay in wildflower mixes. They make long-lasting cut flowers, and indeed, the name Bachelor's Button comes from their lasting qualities when pinned into the lapel of a tuxedo or suit. Cut blooms are also a good choice for wedding day hair ornaments or weaved into a hair band or head wreath.
Cornflowers come in both annual and perennial varieties, but the basic care and maintenance is the same. Sow seed either in late fall or early spring. The seeds usually take 7-10 days to sprout, and germinate readily. Pinching the annual varieties will produce more stems, and thus more flowers. These plants have sturdy stems that hold up well to windy conditions, but occasionally you may have to stake an individual here and there. Soil conditions can be variable, as long as it is well-drained, but full sun, or nearly full sun is appreciated. The plants self seed only sporadically, so fresh seed every year is suggested to assure their presence in the garden, though this does not rule out a volunteer here and there.
Cornflowers make good container choices because of their drought tolerant nature, and also look wonderful in a garden mixed with Oriental Poppies, Dame's Rocket, Shasta Daisies, Coreopsis, Lavender, Zinnias, or a host of other plants. Towards the end of the growing season, their foliage may become somewhat raggedy looking, so having other plants of nearly the same height around them is a good way to camouflage their decline. The flowers can be dried in silica gel for craft projects, or hung upside down and dried for use in arrangements. An infusion of the flowers in water will make a beautiful blue dye for fabrics, but it is not a permanent dye, unfortunately. In Russia, the flowers are added to Vodka to give it a blue tint with a hint of spicy taste.