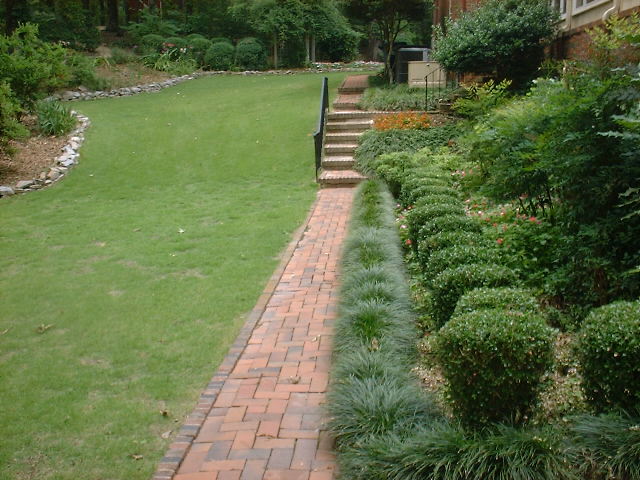 Shrubs & hedges are an easy answer to a large number of landscaping problems. They can be used as accents, to hide unsightly areas, to focus the eye on a particular spot, or as a living barrier to other properties or areas you don't want seen.
Generally, shrubs fall into three different categories including deciduous, coniferous, and broad-leaved evergreens. Deciduous shrubs lose their leaves in the winter, and include many of the flowering shrubs. Coniferous (having cones) include the narrow-leaved evergreens such as junipers and pines. Broad-leaved evergreens include hollies and boxwoods.
The flowering shrubs are beautiful, for sure, but don't base your shrub choices on flowering alone. Remember, for much of the year that shrub isn't going to flower at all. Autumn color can be just as breathtaking as the flowers of spring, so do consider it when picking through the many choices available. Also consider shrubs that sport decorative fruit or interesting bark.
Shrubs are quite a bit more expensive than annuals or perennials in the garden, so adding them progressively is prudent, especially if you are in a new house or are otherwise starting your landscaping from scratch. You can add foundation plantings or focal points the first year, and then gradually add screens, specimen plants, or trimmed hedges around an herb or vegetable garden in subsequent years.
Do take growth habit and mature size into consideration when choosing shrub material. We have all seen the results of what a homeowner planted as a pretty little shrub that has matured into a house-dwarfing nightmare. Also consider plant form. Spreading shrubs can make high walls appear lower, rounded forms are perfect for a formal look or accent plant. Erect forms work well for blocking unwanted views or adjacent tall structures. Arching forms make wonderful highlights or specimen plantings.
This page will look at individual shrubs and their uses in the landscape, as well as tips and tricks to avoid problems with your shrubbery. This is a work in progress, so be sure to Bookmark this site and return often, as new information is added daily. Sources of ideas, and a few of the individual plants are listed to your left, and there is plenty of material on home gardening already in place on this site, so please feel free to check it out!
Custom Search