Detailed Annual
Profiles
---
---
---
Site Map
Home
Annuals
Architectural Elements
Backyard Habitat
Biennials
Bonsai
Bulbs
Cactus/Xeriscaping
Companions
Composting
Container Gardening
Crafts
Gardening Q/A
Garden Ornamentation
Gargoyles
Greenhouses
Ground Covers
Herbs
Houseplants
Insects/Diseases
Landscaping
Organics
Perennials
Ponds
Propagation
Recipes
Roses
Seeds
Shade Gardens
Shrubs/Hedges
Tools
Trees
Vegetables
Vines
Weeds
Wildflowers
Wildlife
Shop Gardening
---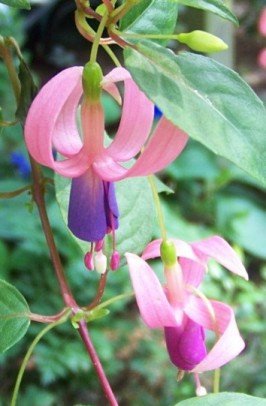 Want something different for that lonely pot or hanging basket this year? Impatiens, begonias, and Sweet William are nice, but if you are looking for something truly unique that you don't see everywhere, take a good look at the plant to the right. It's Fuschia, folks, and it's truly different. There are something like 110 different species of Fuschia from small to big shrub-like plants. but you will probably only find a few of them in your neighborhood nursery, likely very similar to the one pictured here that I found in a hanging basket at one of the big box stores. Fuschia flower colors vary and include combinations of white, pink, purple, red, blue, and even orange.
Fuschia, at least in the most available hanging basket form, is used as an annual in most places because it is not reliably frost-hardy, although there are some shrub-types that will withstand winter except in the harshest places. Just be careful that you know what you are getting when purchasing this plant if you plan to leave it out all year long.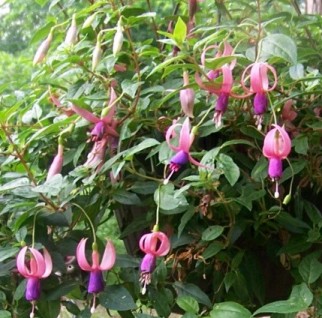 It should be noted that Fuschia is a heavy feeder during the growing season. Feeding regularly with a slow-release fertilizer for flowering plants or using water-soluble fertilizer when watering the plant is highly recommended or the plant will not perform well. Good soil is also a must. Don't use the cheap dollar store potting soil because it probably won't provide the even moisture needed for growing Fuschia. Provide a pot with good drainage, and keep the soil moist at all times. This will probably involve watering every day during the heat of the summer. Pinching or cutting back every so often will help the plant to bush out and to produce more flowers. If you have ever grown Impatiens, you get the idea. If you haven't read the drawback section on the Impatiens page, please do so. All of them apply to Fuschia. Another similarity is the ease with which stem cuttings can be taken, so if you want to increase your Fuschia stock, stem cuttings are definitely the way to go. Fuschia is definitely not a full-sun plant but it is not a full-shade plant either. Dappled shade under a tree or half a day of sun at the side of a house (preferably morning sun) is the perfect setting for this plant.
Fuschia can be fairly easily overwintered in a cool place like a garage or shed. Cut back to about 6 inches and remove all the leaves, and then put the pot to bed for the winter. You don't want it to grow during this time so water very sparingly with no fertilizer - maybe 3-4 times all winter until after the last frost, when you can put it back outside and start watering and fertilizing regularly again.
In conclusion, although Fuschia has somewhat of a reputation for being a hard to keep, finicky plant, it's really no worse than a lot of the more common annual plants you see in local landscapes, but you do have to be a little more diligent, especially with regular watering and fertilizing. On a scale of 1 to 3, with 3 being most difficult, I would rate Fuschia as a 2. If you see one at the garden store this year, try it out, because it could very well end up becoming one of your favorite plants!
Custom Search
---