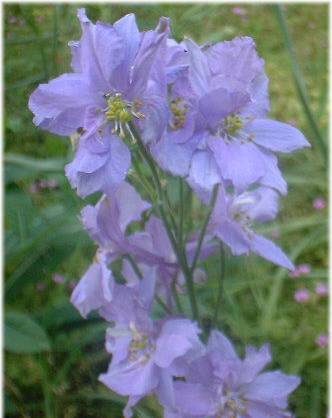 For those who live in areas too hot or humid to grow Delphiniums but who still want the tall spires of color, Larkspur is the answer. A close relative to the stately Delphinium, Larkspur will give you all the class without all the fuss!
Available in shades of blue, lavender, pink, and white, and growing as tall as 3-4 feet with sturdy spikes and fern-like foliage, Larkspur makes a show-stopping back of the border choice for shorter plants with similar bloom times (mid to late spring), such as Shasta Daisies, Poppies, or Pansies. Planted in drifts, Larkspur puts on a fabulous show, reminiscent of the English Gardens of old. Once established, it self-seeds freely, and you likely won't have to worry about volunteers next year.
Larkspur very much resents transplanting, so sow seeds where you want them to grow, either in the fall or as early in the spring as the ground can be worked. Sow shallowly and later thin to no less than about one foot apart, as you will be surprised at how fast and how big these beauties grow once they get going! They appreciate full sun and will also perform well in part shade, but will wilt and disappear when the weather starts getting too hot. Once they are dry and dead-looking they can be cut to the ground, if deemed necessary.
Larkspur makes an excellent cut flower, and with proper care lasts 7-10 days in a vase. Cut in the morning when the flowers are just shy of their peak for a dramatic indoor display.
One word of caution - Larkspur is a poisonous plant, and should be planted with care where there are small children and animals with an inclination to chew.
Custom Search