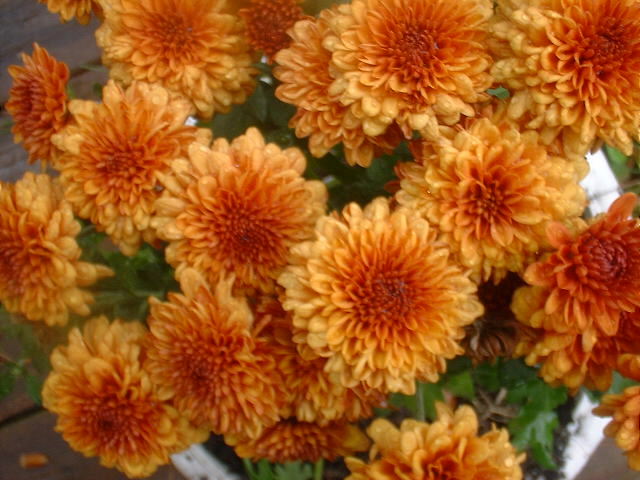 Chrysanthemums are wonderful perennial plants that should be a staple of every fall landscape. They offer bright color, reliable bloom, and a wide variety of shapes and growth habits to fit into any garden design. They are members of the daisy family, and all have the characteristic daisy-like yellow disk at the center, although in some cultivars this can't be seen because of the density of the petals. They make excellent specimen plants and are care-free container plants.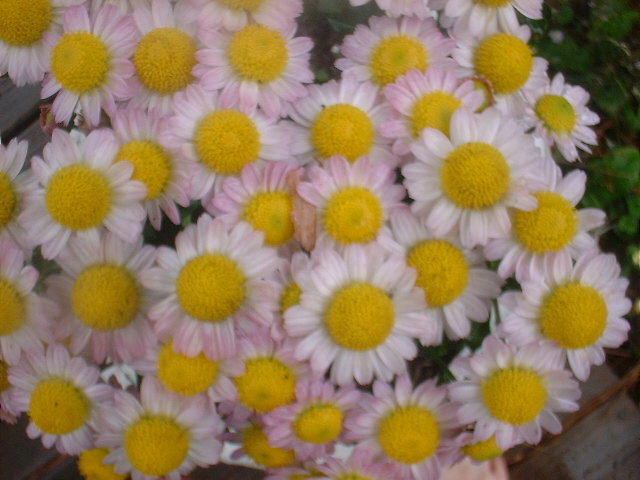 Chrysanthemum cultivars can be bought in a wide variety of colors, including white, bronze, pink, yellow, lavender, salmon, purple, and burgundy. They vary in growth habit, from small 12 inch mounds to 3 foot shrub-like plants. Their leaves are dark green and dense, and they have multiple branches off the main stems. They should be planted in fall or early spring in a well-drained soil, but otherwise don't require any special soil amendments, as they do well in a variety of soil types. They don't do well in shady situations, so be sure that you place them in a spot that gets adequate sunlight. Chrysanthemums are heavy feeders and appreciate a side-dressing of fertilizer during the growing season.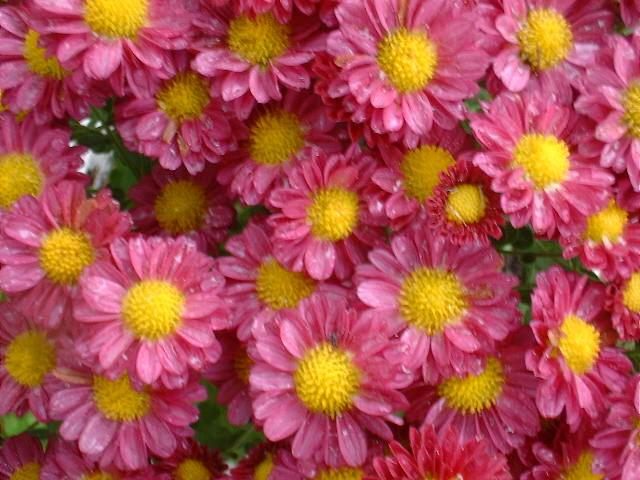 Propagate Chrysanthemums by cuttings, root division, or seed. Cuttings do well if placed in a shady spot and kept moist. Deadhead spent flowers to keep the plants tidy, and after all bloom is finished, prune the unsightly flowers and dead branches away. This will cause the plant to put out numerous new shoots for the next blooming season. In harsh winter areas, mulch heavily to help them withstand the cold, but in the more temperate climates, a light mulch will suffice.
Chrysanthemums can be classified according to the shape and arrangement of their blooms, which are listed below:
Anemones have single, daisy-like flowers with deep colors.
Cushion Types are low, bushy plants that form nicely rounded, attractive mounds.
Decoratives are the larger plants of the species, and usually have double or semi-double flowers on shrub-like plants.
Pompons are smaller varieties that have ball-shaped flower forms.
Singles or Daisies are, as the names suggest, daisy-like flowers with yellow centers.
Chrysanthemums make excellent cut flowers for arrangements, and should be treated the same as any other cut flower, as far as changing the water regularly and snipping off a bit of stem with every water change. Adding an aspirin to the water will help prolong flower life.
Chrysanthemum flowers are edible, but some can be rather strong and bitter tasting. The petals can be chopped and used sparingly in salads, and the whole flowers make a lovely garnish for other foods. Always remove the petals from the flower base before using, as the flower base is very bitter and tastes awful!
Custom Search