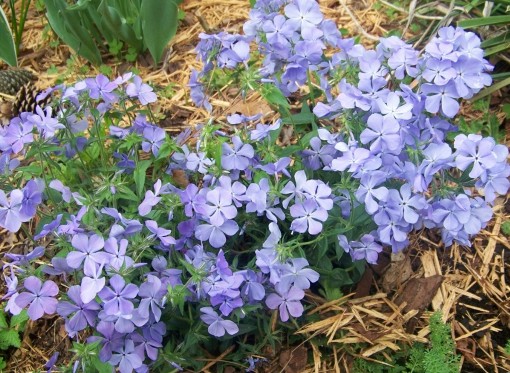 So you do it all in the spring - Daffodils, Tulips, Hyacinth, Crocus - and they are gorgeous! However, if you are like me, you have always wished that you had a little something more to cover some of the bare ground this time of year. Well, look no more, because Woodland Phlox is the plant you have been looking for! Also called Blue Phlox, Louisiana Phlox, and Wild Sweet William, and with a Latin name of Phlox divaricata (divaricata means "spreading") this is an early spring bloomer that if happy in its position will come back a little bigger every year with masses of sky blue to light purple flowers (with some even available in white and rose colors). Woodland Phlox is actually a wildflower in every state to some degree, ranging from the Rockies all the way to the Atlantic coast.
Growing as a wildflower, Woodland Phlox thrives in open woods, fields, and along streams from the Rockies east to the Atlantic. It is not a full sun plant, instead preferring dappled shade and fairly moist, well-drained soil, such as one would find in a woodland setting. It is a fragrant plant, and as such makes a nice early spring planting near a door or in a hanging basket near a walkway. It spreads by stems rooting at leaf nodes where they touch the ground. Because of this characteristic, as one might expect, this is an easy plant to propagate by leaf cuttings - just cut off a young shoot and stick it in some potting soil and keep moist. Once the colony gets big enough to divide, this can easily be done in either spring or fall as another way to propagate this plant.
As might be expected with its wide range in the wild, Woodland Phlox is fairly carefree as far as diseases or pests, but powdery mildew can be a problem if the plant does not get enough air circulation, so watch for that. Rabbits also like this plant, and occasionally spider mites may attack. It pays to trim the plant back after flowering to a nice green mat, as this will help the plant to spread and keep it healthy.
On a personal note (and I hate to even admit this), the first time I planted Woodland Phlox, it didn't come back the next year. I was really disappointed. I was studying pictures from the year before, and looking closely in the area where it was supposed to be, and it just wasn't there anymore. This garden gets regular watering, has great drainage, and gets regular maintenance and mulching, and I almost never lose plants, so I had to wonder what happened. After replacing the plants this year, I think I know. I mistook the flowerless foliage for weeds and weeded it right out! I'm almost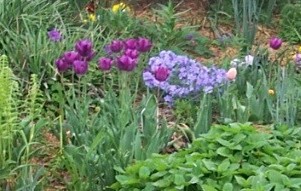 sure of it, although I don't remember specifically doing it. If you are not completely familiar with the foliage, it can be easily, easily mistaken for a weed, so if you grow this plant, find some way to remind yourself where it is in mid summer when you have all but forgotten about it and all you want to do is get done and get inside where it's cool!
So that's about it. I have seen Woodland Phlox in more garden centers than ever this year in my area, so you shouldn't have too much trouble finding it. This is one to try for sure if you run across it because with time, it will fill in around all those spring bulbs and really make your spring garden a memorable one for years to come! Above is a picture of mine growing with some purple tulips this year for an idea of how it really enhances the scene!
Custom Search