Additional Bee Balm Information
Medicinal Uses
Recipes
Magic & Superstition
---
---
---
Site Map
Home
Annuals
Architectural Elements
Backyard Habitat
Biennials
Bonsai
Bulbs
Cactus/Xeriscaping
Companions
Composting
Container Gardening
Crafts
Gardening Q/A
Garden Ornamentation
Gargoyles
Greenhouses
Ground Covers
Herbs
Houseplants
Insects/Diseases
Landscaping
Organics
Perennials
Ponds
Propagation
Recipes
Roses
Seeds
Shade Gardens
Shrubs/Hedges
Tools
Trees
Vegetables
Vines
Weeds
Wildflowers
Wildlife
Shop Gardening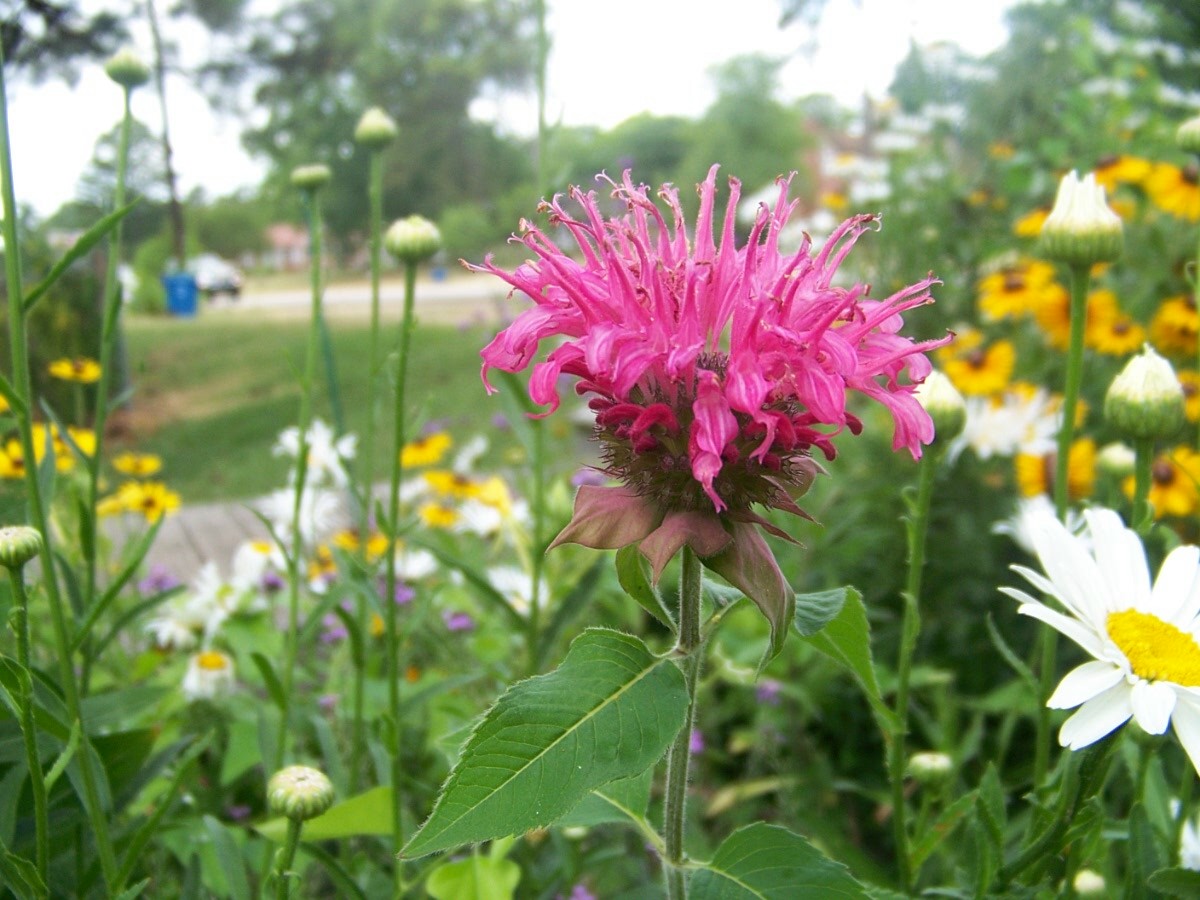 Bee Balm (Monarda didyma), is known by several names, including Bergamot, horsemint, and Oswego Tea (named after a botanist who sampled a tea made out of the plant at Fort Oswego, New York in colonial times). Bee balm is an amazing, easy to grow garden perennial with wonderful fragrance and bright color on tall plants. It is also a great culinary and medicinal herb that has been used for centuries, with Oswego Tea being the beverage of choice for the colonists after losing access to English teas after the Boston Tea Party.

Bee Balm can be grown from seed, cuttings, root divisions, or starts purchased at the garden center. It is a member of the mint family and spreads by underground rhizomes. Is it invasive? Well, as is the case with most mints, it can be, but if I had to vote for an invasive plant that is worth tolerating, this one would come in near the top of the list. This is a beautiful perennial plant that flowers in shades of white, pink, and purple on 2-4 foot stems, and that has an intoxicating citrus-mint fragrance that attracts bees, butterflies, and hummingbirds by the dozens. As with most mints, it will perform well in a variety of soil types, and it will even tolerate partial shade, especially if shading occurs in the hottest part of the day, such as in the shadow of a tree, fence, or shrub. Bee balm is not overly particular about soil type, other than it won't withstand severe drought, and will succumb to root rot in cold, wet soil during the winter months. Occasionally in humid, close conditions, plants will suffer a bout of powdery mildew, but this will usually not kill the plant. Providing good air circulation and watering from below when possible should prevent serious problems with powdery mildew. Deadheading spent flowers will usually result in another bloom in late summer or autumn. The plant will die back to the ground in winter, but rest assured it will reappear in spring and will have probably spread a bit if it is happy in its position.

As far as propagating is concerned, the best bet to get plants true to the color of the parent plant is to divide existing plantings. Of course, if you are just starting with this plant, you will have to either purchase seed or make stem cuttings from a friend's plant. Be aware that self-harvested seed will not remain true to the parent plant's color, as Bee Balm will revert back to its wild form. To make a stem cutting, choose a stem with two sets of leaves, and strip the lower leaves off. Plant in soilless mix or potting soil, covering the nodes where the lower leaves were stripped. It takes a good 2-3 weeks for Bee Balm cuttings to take root, so be patient and you should have good results.

In the landscape, Bee Balm is a Godsend for bright mid to late summer color, and is a good addition for almost every type of garden, from cottage gardens to formal gardens. The fragrance is first rate, but you probably shouldn't plant near the front door or you may find yourself dodging bees while balancing an armful of grocery bags. Dried Bee Balm flowers are wonderful additions to fragrant potpourri and dried flower arrangements (pick flowers when blooms are just shy of being completely opened and hang upside down - leave 12 inches of stem for dried flower arrangements). Fresh flowers make a colorful and fragrant addition to live cut flower arrangements. This plant also lends itself to culinary and medicinal uses (see links at the top left for more information). As such, no garden - especially yours - should be without at least a few of these wonderful plants.
Custom Search
---