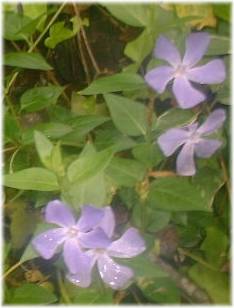 If you have a problem area in the landscape and are looking for a good-looking, long-lasting, fast-growing, and virtually trouble-free ground cover, Periwinkles (Vinca Major & Vinca Minor) may just be the perfect choice for you. A member of the Dogbane family, and vining in habit, Periwinkle is not a climber but is rather an evergreen perennial vine that sprawls along the ground, quickly making a thick, attractive purple, blue, or white-flowering mat with dark green shiny leaves. Caution should be used, however, as it is a vigorous grower and can be invasive due to its ability to take root wherever the shoots touch the ground (Vinca Major is larger and more aggressive than Vinca Minor). Nonetheless, with proper care Periwinkle can be a lovely carefree addition, especially in problem areas in the landscape, such as under trees, on slopes where grass is difficult to grow, or on the north side of a building where little else will grow.
Both vining types of Periwinkle will grow in full sun, but prefer a somewhat shady location, and will tolerate less than perfect soil if given adequate water. Full-sun will produce more flowers, but part-shade will produce better looking foliage. Stem cuttings are easy to root for those on a budget, and rooted cuttings spaced about 6 inches apart will cover the entire area by the end of the season. Blooms appear in April and sometimes again in fall with both types, and Vinca Major may also sporadically bloom throughout the summer. Interplanting with other reliable spring-flowering bulbs such as Daffodils will virtually guarantee a memorable and maintenance-free spring landscape.
Plant Vinca Major and Minor at any point in time except the dead of winter. Break the soil up and maybe throw some compost or dried manure in to help the plants get established. From then on, water as needed, and weed until the plants become established, at which point they should choke out most of the weeds in the area. Fungus is occasionally a problem, so try not to water from overhead if at all possible. Once established, pull any renegades that overstep their bounds, and enjoy the show!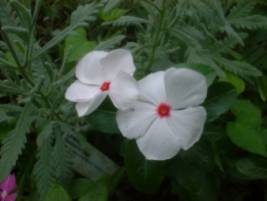 Madagascar or Rosy Periwinkle is a close relative of the ground cover Vinca but is sold as an upright bedding plant (up to 18" in height). It is a tender perennial that is treated as an annual in all but the warmest areas. It is the exact opposite of its cousins in that it prefers full sun, rather dry soil, hot conditions, and blooms all summer. Flower colors pretty much range the spectrum, often with a contrasting "eye" as in the picture above. Rosy Periwinkle is propagated by seed rather than cuttings, and planted in masses makes a long-lasting, good-looking statement in the landscape. It also lends itself well to containers, borders, and works well as a colorful and trouble-free filler for the front to mid portion of the perennial garden.
Rosy Periwinkle is a noteworthy medicinal herb, much more so than the other Vincas, though they also have a few medicinal qualities. Please see the link at the top left for more information.
Custom Search