A Rose Blether

It's time for a more light-hearted approach to gardening, don't you think? We're swamped by all manner of experts telling us how to grow this and that from seeds, cuttings and division. Now that's all very well of course, but I prefer to have a bash at it myself and in my own inimitable fashion. The 'Let's Just See What Happens' School of Philosophy.

If the roses have a touch of black spot, powdery mildew or some other strange deviation from the norm, then try emptying the contents of the washing-up bowl over them after your evening meal. Warm washing-up liquid, remnants of soggy Tuna and Pasta, fluid-like dregs of chocolate ice-cream, garlic sauce, who knows it might just do the trick, it might just work, it'll certainly make you feel better anyway, make you feel as if you're doing something about it. And anyway, who's got the time to spend hours in the Garden Centre wandering aimlessly amidst brightly packaged accessories each time one of your prized plants shows signs of deterioration or death? Easier to pull it up, isn't it? Burn it and then buy yourself a new one (burning is the preferred method, is it not - eradicate all disease by fire?) Or do you commit the cardinal sin of chucking it over the fence into your neighbour's garden when no one else is looking!

There's been some serious research, of course, conducted into all things horticultural over the last decade or so and some of it quite fascinating. I saw a very interesting gardening program on the television last year, all about pruning roses it was, a Friday night gardening program if I recall correctly. So there I was, relaxed, spread-eagled on the sofa, telly on, bottle of wine drunk, fish supper scoffed, when a bright and breezy gardening expert pops up to discuss the problems of pruning roses and how best to go about it. Very interesting it was. Fascinating in fact.

One batch of roses (roses with an extraordinary name, something along the lines of 'Sexy Rexy' or 'Great Maiden's Blush') were lightly trimmed in the way that it's supposed to be done, the way the experts do it (and which way is that now?).

The second batch were cut to within six inches of ground level with a joiner's saw, and very neatly too.

And the third batch, decimated with a chainsaw. Hacked to pieces!

And do you know, they all grew back the same, fine and healthy, although the ones chopped with a chainsaw were a tad smaller as one might expect.

The moral of the story?

When pruning roses (or anything else for that matter) use whatever comes to hand. And if it needs pruning now, then prune it now. Use the sewing scissors, the carving knife or anything else that's lying around, even the lawn-mower! Why not? You might be pleasantly surprised.

Happy pruning.

(Copyright: Patrick Vickery)
---
OTHER BLETHERS!
A Tomato Blether - January, 2002
A Tree Blether - February, 2002
A Surreal Blether - April, 2002
A Half-Man, Half-Garden Blether - July, 2002
A Blaze Blether - August, 2002
An Inanimate Object Blether - September, 2002
A Notable Quotable Blether - October, 2002
A Plant Blether - November, 2002
A Compost Blether - December, 2002
A Copper Beech Blether (or a chainsaw pruning!) - January, 2003
A Heron Blether - February, 2003
A Bergenia Blether - March, 2003
A Critter Blether - August, 2003
---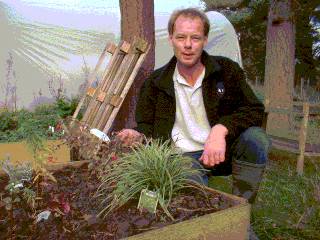 Patrick Vickery is a garden writer who lives in the Scottish Highlands. He runs a small perennial plant nursery and has one book published to date: 'In Pursuit Of Perennial Profit - The Pot Of Gold At The Bottom Of The Garden' (Capall Bann Publishers. ISBN: 186163 1480), a 'How To' book about the propagation of hardy perennial plants in an environmentally friendly way, and how to make your garden productive in a variety of ways for both expert and gardening enthusiasts alike - at minimum cost and in an innovative and exciting way. And - of course - how to sell the plants you grow (should you wish to) to raise money (not a fortune) for yourself or a particular charity or cause.
Patrick is married with three children, lives in a two acre wood in a wonderful part of the world, uses a raised bed system of propagation and has two dogs, a cat and two goats. His second book - 'Gardening Tales - Blethers and Grunts' - a collection of anecdotal tales concentrating on the more humorous side of gardening (particularly the things that go wrong!) has recently been completed.
Patrick's book can be bought from an absolutely fascinating website full of gardening, herbal, mystical, and magical books that one would never find anywhere else. The address is www.capallbann.co.uk.