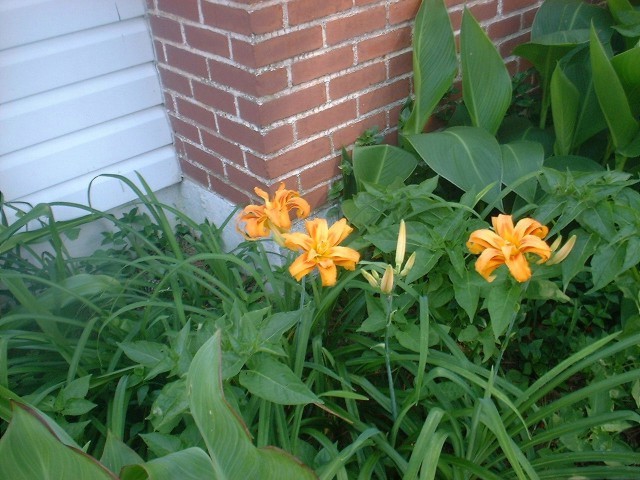 Question: Can you grow Daylilies in a container?
Answer: You sure can grow Daylilies in containers. Daylilies are practically pest-free, have graceful foliage, don't much care about soil conditions, will withstand drought, and will hold up well in full sun placements. Make sure the container has drainage because about the only thing that Daylilies will really complain about is soggy soil. The only downside I can think of is that most daylilies only bloom for 3-6 weeks (although there are a few that will re-bloom later in the season). I'm assuming you are considering a good-sized container since most daylilies get pretty big pretty fast. If so, maybe some kind of annual around the edge of the container for interest when the daylilies are not in bloom would look very nice. Impatiens, petunias, or even coleus come to mind. Also, to keep the plants healthy, fertilize with a balanced fertilizer every three months or so. Eventually, the daylilies will outgrow the container and you will have to move them into the garden, and doing so in the fall maybe 6 weeks before frost should insure that they do well. Daylilies are tough workhorse plants that look good even when not flowering, and as such are a great choice for container plantings.
Question: My daylilies are doing terrible this season. The temperature is topping out at 100. Do I water more or do I water less?
Answer: 2008 has been a year of extremes, with too much rain in some places and too much heat in others. You don't give me much information, such as where you are or how long the daylilies have been there, so all I can do is provide a general answer. Daylilies are fairly tough garden plants but no plant is invincible in extreme weather conditions. If the temperature remains over 100 for more than a few days, most plants, including Daylillies will suffer. All you can do is water when necessary and withhold fertilizer until the heat wave passes. Your daylilies will probably bounce back fairly quickly when the weather evens out. If this is a stand of daylilies that has been there for a while, you might consider dividing in the fall, because overcrowding stresses plants even more. The good news is that the plants will probably survive this and rebound nicely, so just do your maintenance as always, making sure the soil does not dry out completely and wait it out.
Custom Search