Question: Where is the seed pod in Impatiens, Lisianthus, Verbena Veralena, and Violet?
Answer: Both Impatiens and Violets have seed pods that burst open, expelling the seeds for a surprisingly long distance. On both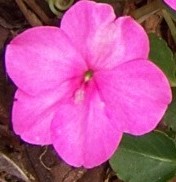 plants, look at the middle of the flower for a small bulb-like protrusion. That's the seed pod. The petals will drop off and the seed pod will continue to grow until it is ready to disburse the seed. The seed for both plants is small, and the pods pop very easily (Impatiens in particular can pop at any time), so be very careful when removing pods and put in an envelope or baggie so the seed will not jump away when the pod blows. A seed pod is evident in the center of the Impatiens picture to the right. Lisianthus also has a seed pod in the center of the flower that looks like a lot like a tiny melon. After the first few frosts, the seed pods will turn brown, at which point you can harvest the seed. Don't do this before the pods are brown or the seed won't be viable. As far as Verbena, again, the seed grows in the middle of the flower, but it is one seed per flower rather than a bud containing multiple seeds. Once the flower petals fall off, they leave a thin, semi-opaque whitish tendril with a knob on top that was the center of the flower. Wait until the entire tendril is brown before collecting seed. Good luck!
Custom Search