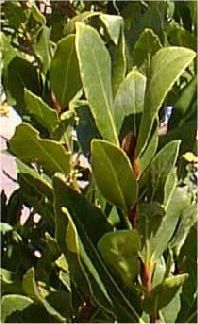 Beef Stew
2 pounds beef stew meat
1 pound Irish potatoes
1 package baby carrots
1 package pearl onions
2 fresh tomatoes
1 cheesecloth bag with thyme, bay, and garlic
6 cups of beef stock or beef bullion
Salt & pepper to taste
1/2 cup corn starch
Brown beef stew meat in pan, then add them to beef stock or bullion and simmer until tender. Add the vegetables and spices and cook until tender. Mix corn starch a tablespoon at a time in 1 cup of cold water and stir until thickened. Add to stew pot and stir until the desired consistency is reached. Makes 6 servings.
Grilled Peppers with Bay Leaves
3 large red peppers
3 large yellow peppers
3-5 branches of fresh bay leaves
2 tablespoons extra virgin olive oil
Salt & Pepper to taste
Place the peppers over a hot grill. Cook until they begin to blacken on all sides (this will happen quickly). Place the peppers in a container and cover tightly with plastic wrap until they are cool enough to handle. When cooled, peel the blackened skin from the peppers with a knife.
Rub each pepper with olive oil and sprinkle with salt and pepper to taste. Place the peppers in a bowl so that they fit snugly, and insert bay leaves between them so that they are touching each pepper. Allow to sit for about one hour, then reheat on a cool part of the grill for about 30 seconds and serve. Makes 6 servings.
Custom Search