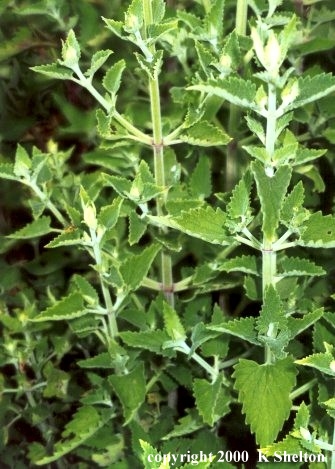 Catnip is well-known because of the attraction it holds for cats, who love to roll in it. It is a perennial herb with a scraggly growth habit that makes a good companion plant for some other herbs and vegetables. Please see Companion Planting for more information. If you really like cats, grow this herb, but prepare for it to be in a flattened state most of the time, because the neighborhood cats will be rolling around in it as soon as they find it. Bruising the leaves of Catnip releases the essential oil, which mimics a cat's sexual scent.

Catnip can be used sparingly in salads, and the leaves and young shoots can be used to flavor tea. However, it is mainly used as a recreational substance for pet cats. It is an easy to grow herb, and is not particular about soil, but it does prefer full sun and is at its most fragrant when given good sunlight. It has silverish-green leaves with pretty pink or white flower spikes that bees find attractive. It grows easily from the very small seed in spring or summer, or from stem cuttings taken in the spring and stuck into moist medium. Stem cuttings taken in summer and fall are not as easy to root. There is an old tale that if you start Catnip from seed, cats won't bother it, but if you start it from cuttings, they won't leave it alone. Might be worth a try if you have a cat who continually thwarts your attempts to grow it to maturity.
Try making a toy for your cat by taking one handful of Catnip and one handful of Rose Petals and placing them in a sewn bag big enough to hold the contents. Then tie a string or ribbon to the pouch, and run along the floor or bob to entertain the cat. Cats really like this stuff!
Custom Search