Additional Feverfew Information
Medicinal Uses
Magic & Superstition
---
---
Site Map
Home
Annuals
Architectural Elements
Backyard Habitat
Biennials
Bonsai
Bulbs
Cactus/Xeriscaping
Companions
Composting
Container Gardening
Crafts
Gardening Q/A
Garden Ornamentation
Gargoyles
Greenhouses
Ground Covers
Herbs
Houseplants
Insects/Diseases
Landscaping
Organics
Perennials
Ponds
Propagation
Recipes
Roses
Seeds
Shade Gardens
Shrubs/Hedges
Tools
Trees
Vegetables
Vines
Weeds
Wildflowers
Wildlife
Shop Gardening
---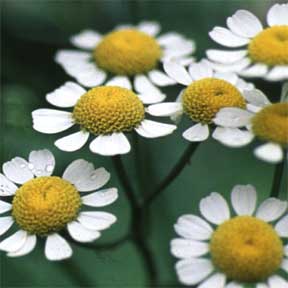 Feverfew is a member of the Chrysanthemum or Daisy family. It is a hardy biennial or short-lived perennial that is often mistaken for Chamomile. It can be distinguished from Chamomile by its upright habit and leaves (Chamomile has stems that basically run along the ground, and has a much more feathery leaf structure).

Feverfew has a quite bitter scent and taste, making it abhorrent to bees, so don't put this plant anywhere near a garden where you want bees, because they will avoid the whole area like the plague if Feverfew is present. I find that a container in a part of the yard without much else growing, or on a stair going into the house where you wouldn't want bees congregating is adequate for my purposes. It can also be planted near plants that you want protected from insects, such as roses. It prefers full sun, but will tolerate some shade. As an ornamental, the low growing varieties make a planting resembling miniature white daisies when used in rock gardens or containers. The plant originated in Europe, but has naturalized throughout the United States, and as such is not terribly particular about growing conditions, though it does prefer a well-drained soil. It can be propagated by root divisions, stem cuttings, or seed in the spring, transplanting to the garden when outdoor temperature and soil has fully warmed. It usually self-sows fairly freely, so given halfway decent conditions, it should come back reliably in zones 5 and up.

Because of its bitter taste, Feverfew has no uses in the kitchen, but it has some fairly impressive uses in the medicine cabinet, though contrary to its name, its common modern use is for migraines and arthritis pain rather than for fevers, though it does seem to have aspirin-like properties that are beneficial in cases of fever.
Custom Search
---