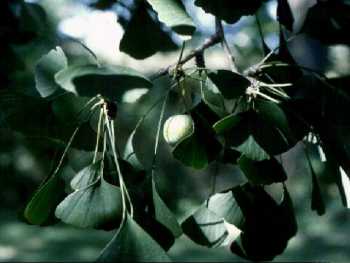 Ginkgo (also called the Maidenhair Tree) is one of the more interesting herbs, not only because the plant itself is actually a tree, but because this tree has been in existence virtually unchanged since the age of the dinosaurs. The Ginkgo Biloba is the only surviving member of the family Ginkgoaceae, a family that numbered around 18 members at its height. The entire family of plants appears to have been wiped out by the ice age, and the Ginkgo was thought to be extinct until specimens were found in China. It is the descendants of these very trees that populate the streets and gardens of modern civilization.
The Ginkgo is a long-lived deciduous tree (loses its leaves in the fall), and has a moderate growth rate. It can be somewhat gawky and thin looking when very young, but becomes a large, stately tree as it ages. It takes 10-12 years for a Ginkgo to reach 20 feet, and about 20 years to attain a rounded shape as a shade tree. It has distinctive fan-shaped leaves that turn a very showy yellow color in the fall, and it makes a good specimen or shade tree in the landscape. It prefers full sun and humidity, and will withstand salt spray, pollution, and storms. In fact, the Ginkgo was the first tree to bud after the atomic bomb blast in Hiroshima. The only real necessity is good drainage. In urban settings it usually matures at about 80 feet. The tallest Ginkgo on record, however, is 1,100 years old and tops out at 200 feet.
Ginkgo will not produce seed until the tree is 25-30 years old, but it is suggested that for a home landscape situation you choose a male Ginkgo, because the females bear fruit that, quite frankly, stinks to high heaven. Deer will not bother a Ginkgo, so it is a good choice if you have deer roaming freely in the area.
Plant Ginkgo in spring or fall, and stake young trees to ensure that they do not grow crookedly. Be sure to place in an area with excellent drainage. Otherwise, these are pest-free, extremely tolerant landscape trees. Propagate by seed (harvest seed in mid-summer, and stratify at 40 degrees for 3 months), by softwood cuttings taken in mid-summer, or by grafting. Of course, you can always go to the nursery and buy one, which is the easiest and fastest method!
Ginkgo has no uses in the kitchen but it does have documented uses in the medicine cabinet. Please see the link above left for medicinal benefits of this valuable plant.
Custom Search