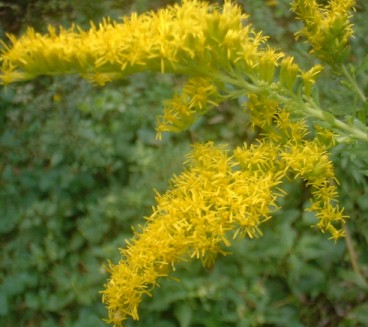 Goldenrod has been an abundant, well-known medicinal herb for centuries, both in the Americas and in Europe, and has been used internally to treat a variety of ailments, including kidney stones, urinary tract infections, bladder inflammation, digestive problems, colds and flu, sore throat, laryngitis, fatigue, and surprisingly, hay fever and allergies. Externally, Native Americans boiled leaves and used them topically as an antiseptic and astringent for wound healing and relief from eczema, arthritis, and rheumatism.
At this point in time, some research has been done on Goldenrod, and indeed, many of the medicinal qualities attributed to it through history seem to have some basis in fact. Although, in America we don't use Goldenrod much medicinally, the German Commission E (an expert committee formed to evaluate herbs and herbal combinations) has approved Goldenrod for bladder and kidney stones, and as a diuretic to help flush out urinary infections, and it is widely accepted in Europe for these problems. It has properties that do make it useful topically for wound healing, eczema, arthritis, and rheumatism, and as a tea or gargle, it has properties that make it a likely valid remedy for colds, flu, sore throat, and laryngitis. Tea made out of the leaves of Goldenrod (called Blue Mountain Tea) has been used by herbalists in the Appalachians for many years to relieve exhaustion and fatigue.
Contraindications are few for Goldenrod, although those who are pregnant or have serious heart or kidney problems should steer clear. There are no known side effects either alone or with other drugs or herbs, but this has not been studied extensively. Minor allergic reactions could occur in some people.
To make a tea to use internally, please see the How to Make Herbal Tea section of this site. Dosage is 2-3 cups per day, or as often as needed if using it for gargling. The tea is actually rather tasty, with an anise-like taste and aroma. For external use, either crush the leaves and rub them on the skin, or visit the How to Make Herbal Oils & Ointments section of these pages. Again, some people may have a minor allergic reaction if rubbing crushed leaves or a preparation directly on the skin so proceed with appropriate caution.
Custom Search