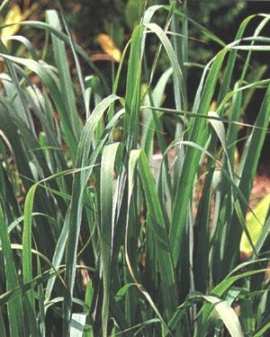 Lemongrass is native to Malaysia, and is an important ingredient in Southeast Asian cooking. It is a tender perennial with a mild lemony fragrance and a lemon-citrus type taste. The stalks are too tough to eat, but they can be chopped and pounded to add flavor to fish or poultry sauces, and stir fry. Lemongrass has long, thin, sharp grass-like gray-green leaves, and a scallion-like base. It grows to up to 6 feet under ideal conditions in the tropics, and to about 3 feet in more northerly climates, so use it as a mid to back of the border plant. It makes a nice contrasting backdrop for most any shorter annual or perennial flower or herb.
Lemongrass is easy to grow from seed, but if you find some at the grocery or specialty store, choose a stalk with a few roots still attached and you can put that in water and root it there to be transplanted into the garden later. I actually saw some Lemongrass starts at the garden center this spring, so hopefully in the near future, Lemongrass starts will be more widely available everywhere. Lemongrass prefers a sandy-type soil, but likes the soil evenly moist, so a good layer of mulch is a must for this plant. A bog type situation also works well for Lemongrass.

Lemongrass is not frost-hardy, so in the colder climates it should be dug and potted to be grown indoors in a sunny window for the winter. Use it in chicken and seafood dishes, curries, casseroles, soups, and stews. Ground stalks can be added directly to dishes. It can be frozen, dried, or used fresh.
Lemongrass has insect repellant properties and is an ingredient in citronella. See medicinal uses for more information.
Custom Search