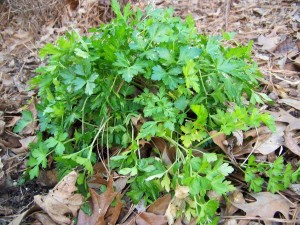 Croutons with Parsley
3 slices of white bread
3 tablespoons of butter
2 tablespoons of minced, fresh parsley
dash of seasoning salt
Cut the bread into crouton-sized cubes. Melt the butter over medium heat and add the bread cubes. Season with salt, and cook until light brown. Stir frequently during this process. Stir in the parsley, then remove the bread crumbs and rain on paper towels. Let cool and cover in a container with a tight-fitting lid.
Mashed Potatoes with Parsley
2 pounds of white potatoes
1/4 cup of milk
1/2 cup of sour cream
1/2 stick of butter (plus 1/4 stick of melted butter)
1 teaspoon of Paprika
2 tablespoons of fresh parsley, chopped
Peel the potatoes, chop into smaller pieces, and cook in boiling, salted water until tender. Drain and mash with a potato masher or beater. Beat in sour cream, milk, butter, and parsley. Put in a baking dish, and drizzle melted butter and paprika over the top. Bake on 250 for 15 minutes or so or until heated through.
Custom Search