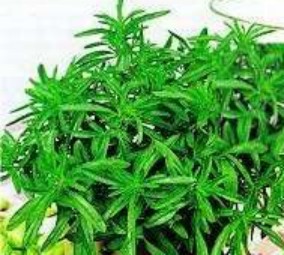 Buttered Corn with Summer Savory
- 1 can of sweet corn or 1 package of frozen sweet corn.
- 1 tablespoon melted butter
- 1/2 teaspoon summer savory leaves (fresh or dried)
- Salt and pepper to taste
Heat corn appropriately per package instructions. Drain excess liquid and place hot in a serving bowl. Stir in the remaining ingredients. Serves 2.
Poultry or Fish Stuffing with Savory
- 2 cups of bread crumbs
- 2 tablespoons of melted butter
- 3 teaspoons of dried or chopped fresh summer savory or 2 teaspoons of dried or fresh winter savory
- 1 onion - chopped and cooked in butter until translucent
- Salt and pepper to taste
Mix all ingredients and use as stuffing for poultry or fish, or as a side dish when serving poultry or fish.
Beans with Winter Savory
- 2 cups of dried beans of your choice - navy, pinto, etc.
- 3 tablespoons of bacon drippings
- 1 onion chopped
- 1 tablespoon of Winter Savory dried or chopped fresh
- 1 can of chicken stock
- Salt and Pepper to taste
Place bacon grease in pot big enough to cook the beans, add onion, and gently heat while stirring until translucent. Add the chicken stock, beans, and Savory to the pot, also adding enough water to completely cover the beans. Bring to a boil, then lower heat and simmer for 2 hours or so until the beans are done. Drain and place in a serving bowl, and add salt and pepper as needed. Serves 6.
Custom Search