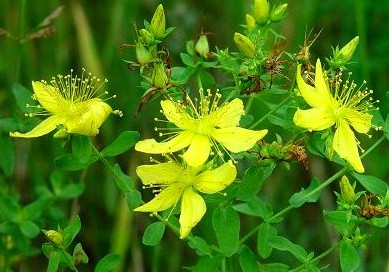 St. John's Wort is bound to Sun and Fire. It has a long history in folklore, and for centuries it was thought that burning it would drive off evil spirits and demons. With the advent of Christianity, it was associated with St. John the Baptist, and was said to start blooming on his birthday, June 24. On the day of his beheading (in August), the plant was believed to have bled red oil from its leaf glands. It is to this day believed to be at it's most potent when harvested in mid-summer, likely due to the timing of the birthday and death of St. John the Baptist. The genus name Hypericaceae means "above an icon" in Greek, and sprigs of the plant were used on images and statuary by the ancients to drive off evil spirits.
In modern magic, St. John's Wort is believed to be of benefit when carried on the person for courage, protection, detecting other magicians, and strengthening the will when confronted with bad situations. The leaves made into a necklace are believed to ward off sickness and tension, and to enhance endurance and will when doing battle.
For protection from lightening, fires, strong storms, and evil spirits place sprigs of St. John's Wort in a jar and place the jar on a windowsill. Similarly, hanging bunches of the plant over every window of the house is said to protect from evil spirits and black witchcraft.
Burning St. John's Wort as incense or in the fireplace thought to protect the home and repel unfriendly spirits, and burning is common in exorcism rituals.
Placing St. John's Wort under the pillow of a single woman at night is said to induce dreams of her future husband.
Lastly, one old Welsh custom was to hang a sprig for each family member on a rafter for the night. The degree of wilting of each sprig the next morning was said to foretell how soon each individual would die, thus giving clues on the state of the health of the individual.
Custom Search