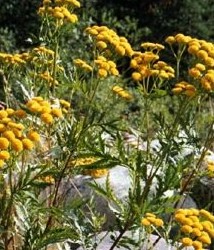 Tansy, or Ragwort, is an attractive Perennial that will thrive if given halfway decent conditions. It has fern-like leaves and thin stalks. It does have medicinal values, but this is not a plant for amateurs. Please take note that with enough quantity, it can cause violent reactions, so use it sparingly or not at all for medicinal purposes. In the past, Tansy has been used effectively for various problems in some instances by knowledgeable people, but as a medicinal herb, but it has long been replaced by safer, more effective products.

Having said that, Tansy sends out vigorous rhizomes, or underground stems. It has become a noxious weed in some areas because of its easy growth habit, and ingesting it has proven fatal to some grazing animals. It has been used in the past for all kinds of pest control, and is helpful for pest control when planted near some other herbs and vegetables. Beware, however, that if you grow it as a companion to other plants, you will have to find a way of containing its growth, as the underground rhizomes do tend to spread rapidly. Please see Companion Planting for more information regarding what plants will benefit from the company of Tansy.
Tansy is easily grown from seed and will do well with little care in average soil and full sun to part shade. It spreads both by dropping seed and by the aggressive rhizomes, and can be propagated by root division. It has a piney odor when brushed, and works well along a high traffic area for the fragrance. It has feathery leaves that have a tropical look, and the shorter specimens make a nice-looking rock garden plant.

Tansy can be used in small amounts in cooking. It has a strong, peppery taste and can be used as a substitute for pepper. It compliments scrambled eggs and omelets, herb butters, marinades, and stuffings, and can be used in baking cookies, pancakes, waffles, etc. It can be used fresh or minced, and can be propagated by seeds or division.
Don't ingest Tansy at all if pregnant and don't grow it if you are near any type of farm with grazing animals. Although this is a pretty plant to look at, there are a lot of downsides to growing Tansy, so unless growing a very specialized garden in which Tansy is an important element, most of us should really find other alternatives in the average home garden setting.
Custom Search