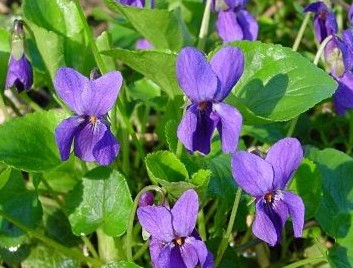 For Candied Violet Flowers, which make unique cake decorations, please refer to the main Violet page.
Thanks so much to Patricia in Virginia for this Violet vinegar & salad dressing recipe!
Violet Vinegar
- pick enough violet flowers to fill a pint jar.
- pour unseasoned white wine vinegar over flowers
- put lid on
- put container on a windowsill for four days
- strain into another pint jar, replace lid, and refrigerate.
Salad dressing
- 1/2 cup mayonnaise
- 1 tap sugar
- 1 tbsp and 1 tsp Violet Vinegar
- Mix well
Custom Search