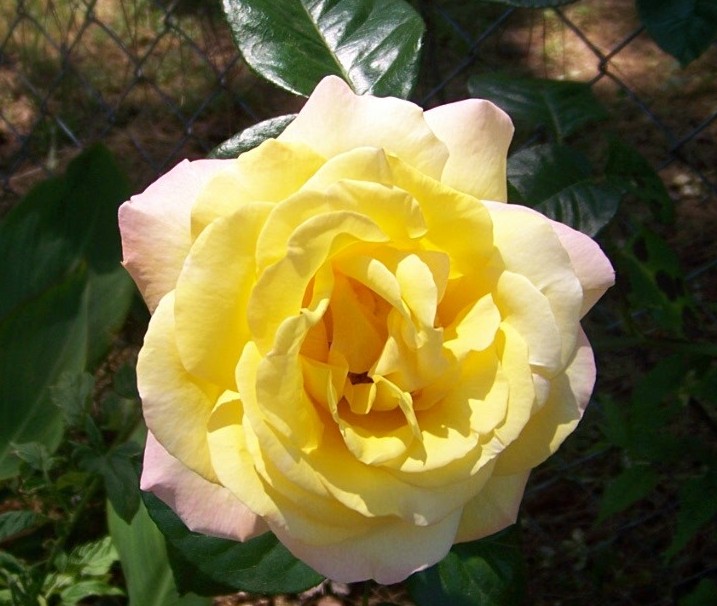 Ok, so you've decided to jump in and plant a few roses. How do you make sure they flourish? Basically, all roses require three things - decent soil, lots of sunlight, and adequate water. Selection of the site is probably the most important criteria in whether you succeed or fail with roses, and good drainage comes in a close second...........the third would be water, because obviously you have selected a site with good drainage....
Dig the hole for the new rose plant about 3 feet by 3 feet - 2.5 x 2.5 is okay if you're lazy. Throw in some triple superphosphate (get it at the garden center). Otherwise, try dog food- which in my experience worked really well....some things just can't be explained......or try some rose food from the garden store. Anyhow, put something in there to encourage root development. If you know that your soil is iron deficient throw a couple of nails in the hole for good measure.
Now, get some compost from that heap that has been sitting in the yard for two years, and mix it with the original soil. Put a mound on the bottom of the planting hole and spread the rose roots around it. Now, do a balancing act and put the mixture of soil and compost in to about half way, while simultaneously holding that rose in an upright position. So much for the aerobic work-out for the day. Now put some water in to dampen and remove air pockets.
After resting from all this hard labor, fill the rest of the hole with a mixture of compost and the original soil. Spring for a bag of compost from the garden department if you really don't have a compost pile (shame on you).....then water thoroughly, tamp slightly, and fill in any settled places. If you are in zone 7 or above, leave the bud union just above the soil, but if you are in colder regions, cover it up to protect it.
Once established, only feed your roses minimally. Just find a good rose food or some Osmacote, which available nationwide. Feed them every 3 months or so, but no more. I use pond scum personally because it's free and I generate it by the truckload.
One thing to note here: These are guidelines that should give you good results as a home gardener. Roses can indeed at times be fussy plants, and it's best to stick to the tried and true varieties that are known to do well in your area.
Custom Search