Additional Arugula Information
Medicinal Uses
Recipes
Magic & Superstition
---
---
Site Map
Home
Annuals
Architectural Elements
Backyard Habitat
Biennials
Bonsai
Bulbs
Cactus/Xeriscaping
Companions
Composting
Container Gardening
Crafts
Gardening Q/A
Garden Ornamentation
Gargoyles
Greenhouses
Ground Covers
Herbs
Houseplants
Insects/Diseases
Landscaping
Organics
Perennials
Ponds
Propagation
Recipes
Roses
Seeds
Shade Gardens
Shrubs/Hedges
Tools
Trees
Vegetables
Vines
Weeds
Wildflowers
Wildlife
Shop Gardening
---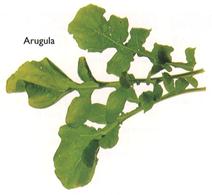 Also known as Roquette or Rocket Salad, Arugula is mainly used as a salad green. It has an assertive, pungent, spicy, peppery, somewhat nutty flavor somewhat reminiscent of radish or horseradish. It is an annual herb, grown for its mustard-like leaves. Use it to add zing to salads and stir-fry dishes when the leaves are tender and young, and to add a tang to potato salads. Mature leaves (which are tougher) can be cooked along with other greens. Late summer planting will provide a good fall crop. Leaves can be kept tender by frequent cutting.
Arugula is one component of mesclun, a mixture of young leaves of various mild herbs, lettuces, chicories, and endives.

Arugula is a cool season crop. Its growth requirements are easy, and are similar to leaf lettuce. It has practically no pests, and matures quickly (2-3 months from seed). It has deeply cut green leaves and white or yellowish flowers with crimson or violet veins. It makes a good companion plant for other herbs and vegetables. Please see Companion Planting for more information. It is native to the Mediterranean region and grows wild throughout southern Europe.
Custom Search
---