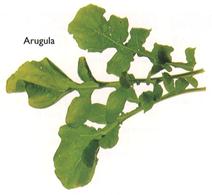 Rocket Salad with Garlic-Cheese Dip
4 oz sunflower oil
8 cloves garlic, quartered
1 tablespoon of red wine vinegar
1 bunch parsley, chopped fine
Salt & Pepper to taste
4 oz. cream cheese
8 Arugula leaves
Coat 75 percent of the garlic in oil. Line a cookie sheet with aluminum foil, and grill for 6-8 minutes, until medium brown.
In a food processor, combine grilled garlic and all other ingredients except Arugula leaves, and process until you have a smooth consistency. Arrange Arugula leaves on a plate and spoon on garlic mixture. Serve chilled as a dip for raw vegetables or as a spread for crackers.

Pasta Salad With Arugula And Tomato Dressing
2 Garlic cloves, chopped
4 ripe, red tomatoes, peeled - De-seed and chop 2 of these
2 small, tender Arugula leaves, chopped
1 tablespoon olive oil
1 package of pasta (8 oz)
Salt and pepper to taste.
Mix tomatoes, garlic, and chopped Arugula in a bowl. Add olive oil and season to taste with salt and pepper. Cover and refrigerate for at least 2 hours for the flavors to mingle. Cook pasta per directions on the package. Drain, toss with chilled Arugula mixture, and serve warm. Sprinkle with grated Parmesan Cheese, if desired.
Custom Search