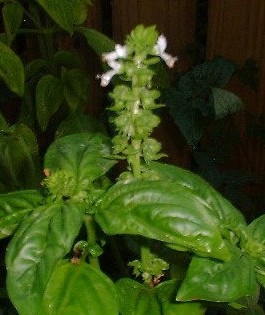 Basil is an awesome culinary herb with a mild, spicy, somewhat minty flavor that can be used fresh, dried, or chopped and frozen in ice cube trays. It is an annual that originates in India.
Basil has small, white flowers that beneficial bees find attractive, making it a good choice for a Habitat type of garden. It is used in Mediterranean, Thai, and Italian dishes, and is also tasty when used with beef, poultry, lamb, veal, fish, pasta, rice, white beans, cheese, tomatoes, and eggs. Basil also makes a tasty, aromatic garnish for many foods.

Basil is a warm weather plant that is susceptible to cold and frost. It prefers full sun and moist soil. It will wilt in excessive heat and dryness. A variety of leaf types are available, and the seeds are dark brown. Basil can be harvested until frost, and makes a good container or windowsill plant indoors during the winter. It is a good companion plant for many other herbs and vegetables. See Companion Planting for more information.

Basil is one of the most popular herbs grown by home gardeners today, and is a great herb for beginners. There are a large variety of basils to choose from that will compliment whatever type of herb or flower garden you happen to be growing. Try the Purple Ruffles and Green Ruffles basils together for a frilly, ruffled look, or try Opal Basil, which contrasts nicely with marigolds and other brightly colored yellow or orange flowers.
Grow basil from seed or from starts in well-worked, warm soil in full sun in mid to late spring, and mulch to keep the soil evenly moist. Basil will not grow well in soil that is too cold or in too much shade. Harvest by cutting the tips of the stems, being careful to leave at least 4 leaves intact.
Custom Search