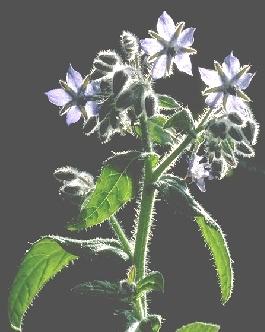 Borage is an annual herb that has attractive, star-shaped blue flowers and dark green leaves. The flavor is reminiscent of mild cucumbers. Borage has a scraggly, unkempt growth habit, so plant closely together so the plants will help support each other. Seed can be sown all season. Borage prefers full sun and fertile, moist soil, and blends nicely into flower or herb gardens.
Borage is best used fresh, as it does not take well to drying. Flowers are quite pretty, and are attractive enough to use in a centerpiece. The fresh flowers also provide a colorful garnish to salads, spreads, dips, and soups. Borage is a good companion for some other herbs and vegetables in the garden, and the bees love it. Please see Companion Planting for more information.

Borage flowers are used as a garnish in tall drinks, salads and dips. The petals, leaves, and stems add flavor to soups and stews if added in the last few minutes of cooking, and also enhance cabbage dishes. Candied borage flowers make an attractive cake or pastry decoration. See Violet for instructions on how to make candied flowers.
Borage will do well in most garden soils, but as with most plants, the better the soil, the healthier the plant. It is easily grown from seed, and will self-seed readily once established. Mature plants take up a lot of room, so thin seedlings to 1.5 to 2 feet apart. Seed can be sown successfully in the spring after the last frost. Sometimes Borage will not flower until the second year, but often flowers will appear in the first season. Keep weed competition to a minimum by using mulch, and keep the soil moist for best plant performance.
Custom Search