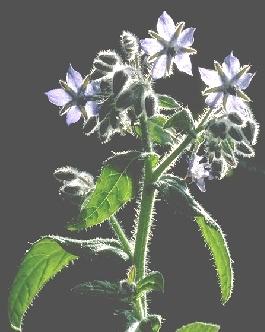 Borage-Flavored Lemonade
1/4 cup of lemon juice
2-3 tablespoons of sugar
3-4 medium-sized borage leaves
2 cups water
Put all ingredients in a blender and blend for approximately 30 seconds. Strain into a tall glass, and garnish with borage flowers.
Borage & Cucumbers
3 large cucumbers
1/2 pint sour cream
2 tablespoons rice vinegar
1/2 teaspoon celery seed
1/4 cup chopped green onion
1 teaspoon sugar
salt and pepper to taste
1/4 cup fresh, young borage leaves (chopped finely)
Slice the cucumbers thinly. Salt lightly and set aside in a colander for 30 minutes, then rinse and pat dry with paper towels. Mix the remaining ingredients, add the cucumbers to the mixture, and toss lightly. Garnish with borage blossoms. Chill for one hour before serving.
Custom Search