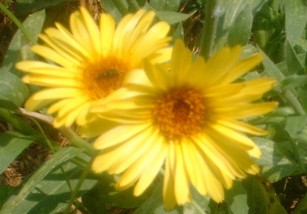 Calendula Petals can be used as an attractive and edible garnish on almost any dish.
Calendula-Flavored Scrambled Eggs
8 large eggs
2 tablespoons of butter
6 tablespoons of milk
1 pinch of nutmeg
4 buttered English Muffin slices
1/2 cup grated cheddar cheese
6 calendula flowers - use petals only - remove petals and chop
Salt & Pepper to taste

Combine the eggs with everything except the Calendula petals. Melt butter in a skillet and scramble the eggs. Stir in the Calendula petals at the last minute. Divide the eggs and mound them on the English Muffin slices. Sprinkle with cheese and serve immediately. Serves 4.

Potato Soup with Calendula Garnish

2 pounds of peeled, cubed potatoes
2 tablespoons of butter
1 diced onion
2 cups of chicken stock or broth
2 cups of milk
1 pinch of nutmeg
1/4 cup of chopped basil
1/4 cup of whole calendula petals
4 tablespoons whipped cream
Salt & Pepper to taste
Melt the butter in a soup pot and add onions. Cover and cook until the onions are tender. Add potatoes and cook 4 minutes. Add milk and chicken stock. Cook over low heat about 15 minutes. Season with salt, pepper, and nutmeg. Place all in a blender or food processor and puree until smooth. Stir in the fresh Basil, distribute into 4 separate bowls, and top with whipped cream and Calendula petals. Serves 4.
Custom Search