Additional Chamomile Information
Medicinal Uses
Recipes
Magic & Superstition
---
---
---
---
Site Map
Home
Annuals
Architectural Elements
Backyard Habitat
Biennials
Bonsai
Bulbs
Cactus/Xeriscaping
Companions
Composting
Container Gardening
Crafts
Gardening Q/A
Garden Ornamentation
Gargoyles
Greenhouses
Ground Covers
Herbs
Houseplants
Insects/Diseases
Landscaping
Organics
Perennials
Ponds
Propagation
Recipes
Roses
Seeds
Shade Gardens
Shrubs/Hedges
Tools
Trees
Vegetables
Vines
Weeds
Wildflowers
Wildlife
Shop Gardening
---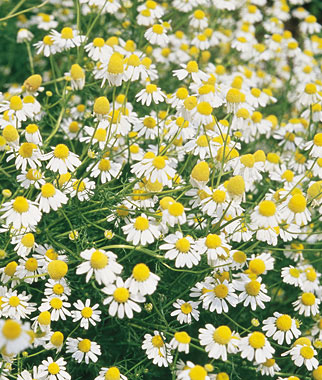 Chamomile is an annual fragrant herb, the flowers of which make a wonderful, soothing tea. It originates in southern and eastern Europe. It is a member of the daisy family and its flowers have a bitter taste. Only use the first 3-4 inches of foliage or the flowers of this plant. The rest is unusable. Other than for teas, Chamomile is mainly used for medicinal purposes.

Chamomile fragrance is reminiscent of apples. It grows readily in less than perfect conditions and can be used as a Ground Cover. It has silver-white flowers with yellow centers. German chamomile is the most frequently used type for medicinal purposes.

Chamomile can be sown in the garden in either fall or spring. Seed viability is increased by freezing and thawing, and therefore planting in fall is preferable. It appreciates full sun and evenly moist soil, and it will reseed freely if some flower heads are left on the plant. When harvesting for teas, pick the flowers for drying when the petals are at their peak and begin to turn back on the flower disk. Use only fresh flowers, as older flowers have lost most of their beneficial oils. Remove as much green material as possible, and dry on screens in the shade. Store in airtight containers and use as needed.
Custom Search
---