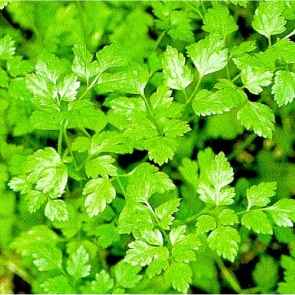 Chervil is an Annual herb that is closely related to Parsley. Its fragrance is reminiscent of Anise. Its leaves are light green and its flowers are white. It can be grown indoors if care is taken to give it enough room in the pot. It prefers partial shade and self-sows readily.

Chervil can be used in flavored vinegars, and chopped for use in sauces, soups, stews, salads and vegetables. It can also be mixed with cheeses and butter, and can add flavor to chicken, fish, and egg dishes.

Chervil can be used fresh or dried. If grown from seed, plant Chervil in its permanent location, as this herb does not transplant well. Sow seeds shallowly and thin to about 10 inches apart once the plants are big enough to be thinned easily. Do provide a well-worked and well-drained soil, with a layer of mulch once the plants are up to keep weeds down and soil evenly moist. Chervil is one of the few herbs that actually prefers cooler shade, so plan accordingly. Harvest Chervil as needed, choosing outside leaves and working your way in. Once the leaves become a purplish color, they have lost their flavor and will not work as well as far as taste.
Chervil will self sow if flowers are left intact and it likes its position in the garden. Successive sowing every few weeks will insure a continuous harvest.
Custom Search