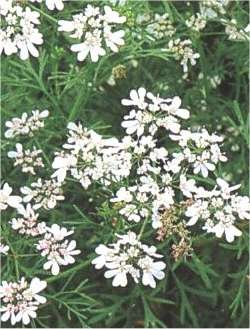 Coriander is a member of the Parsley family and is completely edible, from root to flower. It originates in southern Europe. It is an annual herb that grows up to 3 feet. It is bright green with slender, erect stems. Two parts of this plant are referred to with different names. Coriander is the tan colored seed, and Cilantro is the leaf. The leaves can be used fresh, ground, or chopped and stored in ice cube trays.

Coriander does not do well in humid climates. It prefers moderately rich soil and full sun to partial shade. The roots are long, making it difficult to transplant, so sow the seeds directly in the garden after all danger of frost has passed. In milder climates, seed can be sown in the fall. It makes a good companion plant for other herbs and vegetables. Please see Companion Planting for more information. Harvest Coriander when the leaves and flowers have turned brown, but before the seed has had a chance to scatter. Cut the whole plant, hang it upside down, and thresh the seed from it for drying (use a big plastic bag). Seed that has not been dried is bitter. To harvest fresh seeds, cut when immature and dry. The leaves dry poorly, but the seeds can be kept in sealed jars.

As far as taste, Cilantro evokes strong opinions on both sides of the fence. Either people love it or they hate it, saying that Cilantro has a soapy taste and that the Coriander seeds have an unpleasant odor. It is used widely in Latin American, Indian, and Asian cuisines and can be used to spice up almost any meat or vegetable.
Tip: Freshly ground coriander seed makes for excellent tasting home brewed beer when added at bottling time, according to Chuck, a reader who emailed this tip as he searched for different uses for coriander.