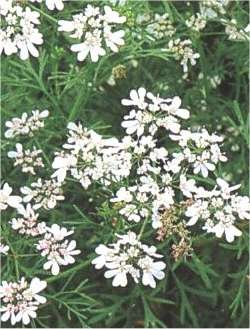 Grilled Pork Chops with Coriander
- 4 boneless pork chops
- 2 cloves of crushed garlic
- 1 tablespoon of ground coriander
- Freshly ground black pepper to taste
- 1 tablespoon of brown sugar
- 3 tablespoons of soy sauce
Combine all the ingredients in a zip-lock bag, shake, and seal. Let sit for at least 30 minutes to marinate. Remove from bag, and grill over medium hot coals for about 15 minutes, turning once. Serves 4.
Split Peas with Spiced Vegetables
4 cups of water
1 cup of uncooked white rice
1 cup of dried yellow split peas
1 tablespoon of vegetable oil
1 tablespoons of shredded coconut
1 teaspoon of coriander seed
1 cinnamon stick cut into 1/2 inch in length
1/4 teaspoon of salt
1/8 teaspoon ground red pepper
2 tablespoons of vegetable oil
3 diced carrots
2 medium diced zucchini
1 finely chopped onion
1 small diced eggplant
2 tablespoons of water
Put split peas in 4 cups of water. Heat to boiling, then reduce heat, cover, and simmer for 45 minutes. In another pot, bring 2 cups of water to a boil. Add the rice, stir, reduce heat, cover, and simmer for 20 minutes. Heat 1 tablespoon of oil in a small skillet over medium heat. Cook coconut, coriander, and cinnamon, stirring constantly until the coconut is light brown. Remove from heat and stir in salt and red pepper. Crush this mixture until fine, and set aside.
Heat 2 tablespoons of oil in a medium skillet and cook carrots, zucchini, onion, and eggplant until tender. Stir coconut mixture and peas into this. Cook over low heat, stirring occasionally until you have a thick consistency. Add water if necessary along the way. Serve hot over rice and garnish with cilantro, if desired.