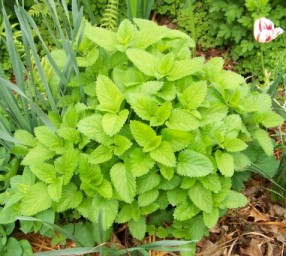 Lemon Balm can be used in any recipe that calls for a squeeze of lemon.
Herbed Strawberry Wine
1 bottle of Rosť Wine
1/2 pound strawberries
20-25 lemon balm leaves
2 teaspoons of rosemary leaves
Remove tops from strawberries, wash and slice. Chop the herbs finely. Mix all ingredients and seal in a glass container with a tight-fitting lid. Shake well. Refrigerate for two days, shaking occasionally. Strain through a cloth towel, and serve chilled.
Lemon Balm Salad Dressing
1 cup of lemon balm, shredded coarsely
1/2 cup red wine vinegar
1 cup olive oil
Salt & Pepper to taste
Combine all ingredients in a bowl. Cover tightly and chill for 1 hour until flavors have blended. Use as a dressing for green garden salads.
Custom Search