Additional Thyme Information
Medicinal Uses
Recipes
Magic & Superstition
---
---
Site Map
Home
Annuals
Architectural Elements
Backyard Habitat
Biennials
Bonsai
Bulbs
Cactus/Xeriscaping
Companions
Composting
Container Gardening
Crafts
Gardening Q/A
Garden Ornamentation
Gargoyles
Greenhouses
Ground Covers
Herbs
Houseplants
Insects/Diseases
Landscaping
Organics
Perennials
Ponds
Propagation
Recipes
Roses
Seeds
Shade Gardens
Shrubs/Hedges
Tools
Trees
Vegetables
Vines
Weeds
Wildflowers
Wildlife
Shop Gardening
---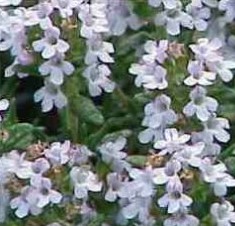 Thyme is one of the great culinary herbs, and the old saying..."When in doubt, use thyme" certainly still applies today. Thyme blends well with dozens of foods, and there are varieties that mimic other herbs almost exactly when used in cooking. Thyme is very nearly the perfect useful culinary herb.

Thyme is a perennial herb that is basically a small, many-branched, aromatic shrub (6-12 inches in height). It has small lilac to pink flowers in June and July. It is native to the western Mediterranean region but is cultivated widely. It has a green taste with something of a clove aftertaste. It blends well with lemon, garlic, and basil, and is used as a garnish in salads and chowders. It can be used with just about any meat, casserole, stew, soup, or vegetable dish.

Thyme is an easy plant to grow, and will do well in sun or partial shade. Make sure the site is well-drained, as Thyme does not like wet feet. Bees are attracted to the flowers, and as such, Thyme is a good addition to a Habitat type of gardening scheme. The smaller varieties can be grown between brick pavers on pathways so the delicious scent can be smelled while walking over them. Thyme is a wonderful container plant, cascading beautifully over the sides of its container, and it is also an excellent rock garden addition due to its cascading habit.
Propagate Thyme by seed, root division, or cuttings. For cuttings, use newer growth and not the older, woody stems. Simply cut a stem of 3 inches or so and place in moist soil. Roots should form within a week, give or take a few days. If planting from seed, the seedlings should appear within 1-2 weeks. Keep moist until seedlings are established, and then place in the garden. Once in the garden, pay attention to watering for about a month until the plants send out a root system, but after that, Thyme will do well on its own with very little attention from you.
Thyme is a must for any herb garden, flower garden, or difficult corner of the yard that could use a short, nice-looking, useful plant. Thyme also makes an excellent companion plant for other herbs and vegetables. Please see Companion Planting for more information.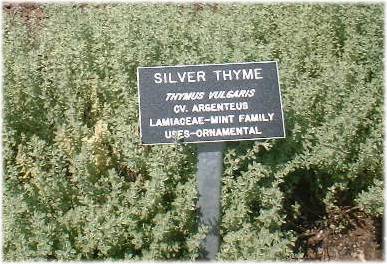 Custom Search
---