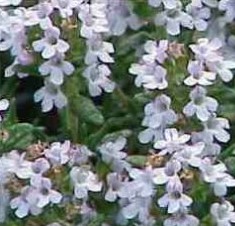 Thyme is bound to Venus and Air. As with many herbs, it can be burned as a purifier, and inhaling the burning scent is thought to enhance psychic powers and renew energy. Burn it in the home to banish evil and to purify the home or a specific room.
When carried on the person, Thyme is thought to inspire courage, attract good health, and protect from negativity, such as at funerals or other sad or unpleasant occasions. Carry a sprig in your pocket or make a sachet.
Thyme can also be added to the bath for purifying and mental clarity. Put a handful in cheesecloth and hang it from the faucet while the bath water is running. Fresh sprigs can be placed in a pillow to promote sleep and prevent nightmares.
Custom Search