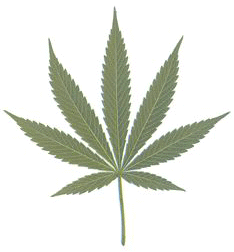 Yes, I know Cannabis is an illegal plant, but in the context of herbs, especially medicinal herbs, it is an important entity, and as such no herbal compilation is complete without it.
The recreational use of Cannabis has long overshadowed any therapeutic or medicinal benefits of the plant, but what few Cannabis opponents realize is that when it was outlawed in 1937, it was over the vigorous objections of the American Medical Society, who had to scramble to find other sometimes less effective substances to treat their patients.
As a plant, Cannabis is a very easy herb to grow, requiring only well-drained soil, adequate water, and full sunlight. There are volumes of websites devoted to growing plants for the best highs, and we will leave that aspect of growing Cannabis to them. Suffice it to say that if you are determined to grow it despite its illegality, it is an easy plant to cultivate and harvest, sharing roughly the same requirements and light conditions as ordinary garden tomatoes.
For those who are facing a drug test, please see Goldenseal and Drug Testing for information related to that.
This page is designed as an informative vehicle primarily geared to illustrate the medicinal uses of Cannabis, though we are aware of the widespread recreational uses. We do not offer opinions on the legal issues, nor do we condone the use of illicit substances.
Custom Search