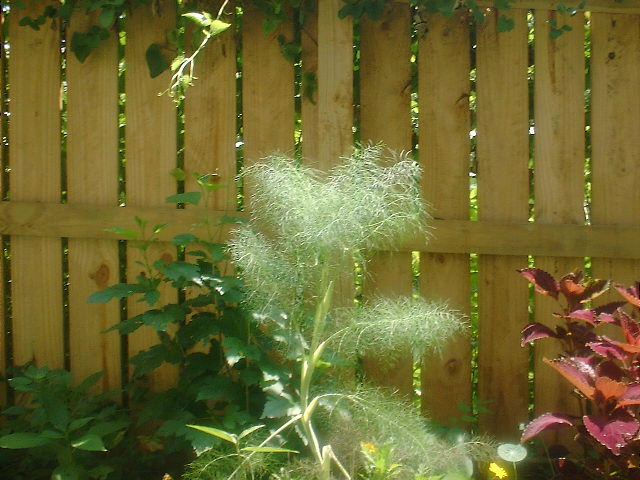 Dill is an annual herb, and is native to southern Europe. It looks like a smaller version of its relative, Fennel. It grows to 36 inches and has attractive, silver-green feathery leaves. The seed is sharp, and has a more pungent flavor than the leaves, which are mildly tangy. It is used to flavor vinegars, mustard-based sauces, and dressings. It also works with tomatoes, fish (especially Salmon), eggs, pickles (obviously), salads, and vegetables.

In the garden, Dill makes a nice, feathery backdrop for other plants. It also makes a good companion plant for some other herbs and vegetables, and bees are attracted to its flowers. Please see Companion Planting for further information. When deciding on a location, remember that Dill self seeds readily and the chances are good that new plants will come up in the same location next year. Seeds are best sown in the ground, as it transplants poorly. It prefers a moderately rich, well drained soil and full sun. Seeds can be harvested 2-3 weeks after the plant blossoms, and are a light brown color. Fresh leaves can be picked before the plant flowers, and can also be dried, but fresh is preferable. Stems can be frozen, snipped as needed, and then returned to the freezer.
Harvest Dill seed when the seed heads become thoroughly brown. A photograph of a cut stalk of ready-to-go seed is below. Store in a breathable container, such as an envelope, at least for the first few weeks. This ensures that the seeds are completely dry, after which they can be transferred to an airtight container without concern for mold.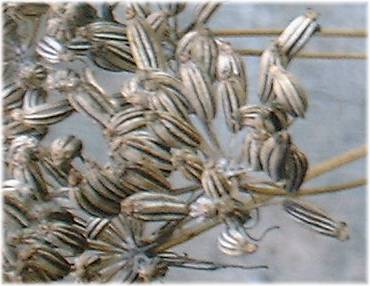 Custom Search