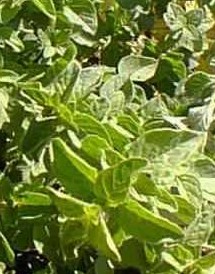 Mentioning Oregano immediately brings to mind tomato sauces and Italian cooking. Oregano is part of a fairly large genus of herbs, and there are many similar plants in this genus that are mistakenly identified as Oregano. A notable one is Marjoram. Oreganos are aromatic perennial plants with hairy square stems, and have a hot, peppery taste. Although we think of it mostly as being an addition to pizza and spaghetti, Oregano actually mingles well with a large number of foods, including roasted and stewed beef, poultry, game, marinated vegetables, potatoes, cheese and egg combinations, onions, shellfish, and roasted bell peppers.

Oregano can be used fresh or dried. It prefers well drained, average soil and full sun. It is native to the Mediterranean all the way to central Asia, but has naturalized widely in North America. It has tubular rose-purple to white flowers and blooms June to September. Plants themselves can be upright or mounding with underground rhizomes, with a maximum height for the uprights of 2-3 feet. Regular cuttings promote bushy growth on all oreganos.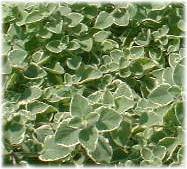 Cuban Oregano
Cuban Oregano is a member of the same family as Coleus, and as such is not a true oregano. It does share the same general taste as the oreganos, and can be used as a substitute, though this is more common in Cuba and surrounding areas than it is in the US. Cuban Oregano makes a nice houseplant - especially the variegated type shown above, and is propagated easily by cuttings.
Custom Search