Additional Marjoram Information
Medicinal Uses
Recipes
Magic & Superstition
---
---
Site Map
Home
Annuals
Architectural Elements
Backyard Habitat
Biennials
Bonsai
Bulbs
Cactus/Xeriscaping
Companions
Composting
Container Gardening
Crafts
Gardening Q/A
Garden Ornamentation
Gargoyles
Greenhouses
Ground Covers
Herbs
Houseplants
Insects/Diseases
Landscaping
Organics
Perennials
Ponds
Propagation
Recipes
Roses
Seeds
Shade Gardens
Shrubs/Hedges
Tools
Trees
Vegetables
Vines
Weeds
Wildflowers
Wildlife
Shop Gardening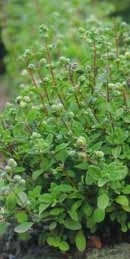 Marjoram is a tender perennial that is usually grown as an annual. It grows to 2 feet high at most, and is a welcome addition to front or mid border positions in the herb garden. Its has stems with many branches filled with oval gray-green leaves that cascade down to make a nice mound. As the stems touch the ground, they root, making the mound gradually bigger. This growth habit makes Marjoram an excellent choice for containers, as it cascades gracefully down the side of the pot.
Marjoram is an excellent culinary herb that blends well with other seasonings. It is often used in turkey stuffings, and is a subtly perfumed, calming herb. The leaves can be used dried or fresh. Its taste is reminiscent of mild oregano, and it can be used as an oregano substitute. It retains much of its flavor when dried, but should be kept away from bright sunlight to preserve the color and taste.

Marjoram seeds are very small and are usually started indoors and transplanted outside after all danger of frost has passed. The seedlings are small, so be sure that weeds do not overtake them before they are established. Stem cuttings are an easier way to propagate this plant, as they root readily and are true to the parent plant. Marjoram prefers rather rich, well-drained soil in full sun or dappled shade. As always, mulch is a good idea to minimize weeds. Marjoram makes a good companion plant for other herbs and vegetables. See Companion Planting for more details.
Use Marjoram in a variety of dishes, including beef, veal, lamb, poultry, vegetables and potatoes. It can also be used in herbed butters and flavored oils and vinegars.
Custom Search
---