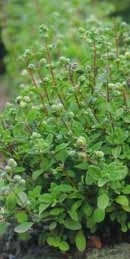 Marjoram is bound to Mercury and air. It is one of the love herbs, and through history has been used in wedding ceremonies. Legend has it that if you anoint yourself with Marjoram before bed, you will dream of your future spouse.
Put Marjoram around every room of your house for protection from negativity and evil intent. Mix it with violets when doing this to protect the family from colds and flu.
Make a Tea and drink for love, happiness, healing, health, money, peace, protection, sleep, joy, wishes, and psychic enhancement. Use it in a bath by placing a mesh bag under the tap water for love and peace. Burn it over a burner for help in accepting life changes and for anti-sorcery spells. Carry it in a sachet to protect against evil, and add to food to share with your object of affection to strengthen love.