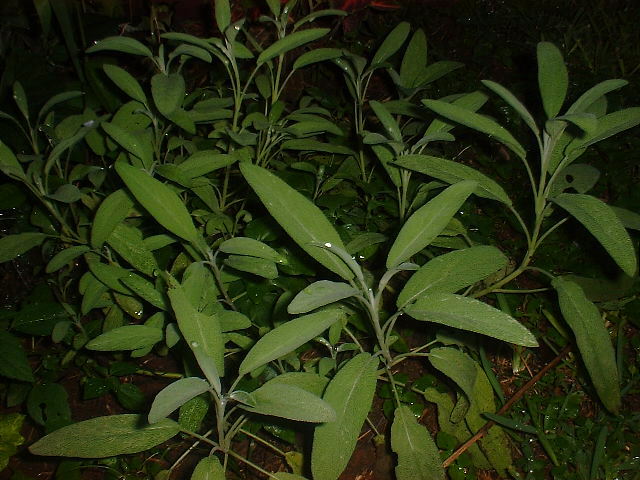 Sage is a perennial herb with grayish-green leaves that are slightly hairy. It is native to Spain and the Mediterranean coast, and is a member of the Salvia family. It is a variable species, and it's flowers can be blue, pink, or white. It can be grown in containers and makes a nice container specimen. Sage can be used fresh, dried, or chopped and frozen in ice cube trays. It has a lemony, camphor-like, and slightly bitter taste and it is a very aromatic herb.

Sage can be used to flavor almost all kinds of meat and poultry, and is probably best known as a delicious addition to poultry stuffings. It adds spice to bland vegetables such as potatoes and eggplant, and also enhances tomatoes, asparagus, carrots, corn, squash, beans, leeks, onions, brussels sprouts, oranges, lemons, garlic, and cheese.

Sage is a nice-looking plant and has merit in ornamental plantings, herb gardens, and Backyard Habitats because of it's attractiveness to bees. It's restful, gray-green leaves compliment brightly colored orange and red flowers beautifully. Sage prefers well-drained average soil and a sunny situation, although it does appreciate some afternoon shade in very hot areas. The plant will grow into a short shrub-like plant when it likes its position in the garden. It's best not to harvest too many leaves in the first year, but once the plant is completely established, it benefits from regular pruning and leaf harvesting. As with most plants, deadheading spent flowers is also a good policy with Sage. The plant will last several years before needing replacement.
Sage seed stores poorly, but germinates quickly, so you will know in a reasonable amount of time if your seeds are viable. It is more commonly propagated by root division, but taking stem cuttings will also work. To dry the leaves, snip from the branches and spread on cloth or paper in the shade. Store in airtight containers. Dried sage has a stronger flavor, but slightly different taste then fresh. Sage is a good companion plant for many other vegetables and herbs. See Companion Planting for more information.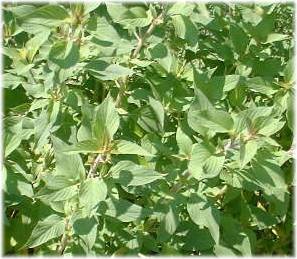 Pineapple Sage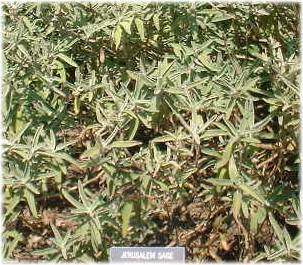 Jerusalem Sage
Custom Search