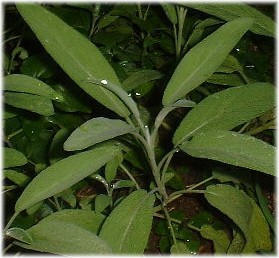 Turkey Stuffing with Sage
2 tablespoons olive oil
1 cup onions, chopped finely
2 sliced cloves of garlic
1/2 tablespoon chopped fresh sage (or 1/4 tbsp dried)
1/4 teaspoon fresh or dried thyme
3/4 cup cranberry juice
1/2 cup chicken stock
4 cups plain stuffing croutons
4 tablespoons olive oil

Preheat a large skillet. Stir in garlic, olive oil, and onions. Cook the onions and garlic over medium until translucent. Add sage and thyme and continue cooking for 2 minutes.
Pour in the cranberry juice and chicken stock. Bring this to a simmer, then reduce the heat to low. Add the olive oil and stuffing croutons. Using a wooden spoon and thoroughly mix the stuffing.
Transfer the stuffing to a casserole dish and bake for 15-20 minutes at 350. For a moist stuffing, cover the dish. For a crisp stuffing, leave uncovered. Makes about 4 servings.
Breakfast Potatoes with Sage
3 tablespoons chopped sage
2 tablespoons olive oil
2 pounds red potatoes cut into about 6-8 wedges (do not peel)
1 teaspoon seasoned salt
1/2 teaspoon freshly ground black pepper
Preheat oven to 450 degrees Fahrenheit
In a large bowl, stir together oil, potatoes, salt, pepper, and 2 tablespoons of the sage. Mix until thoroughly coated. Pour a small amount of water in a shallow pan or baking sheet and top with potatoes, spreading them out evenly. Cover tightly with aluminum foil. Roast potatoes for 15 minutes. Remove foil and roast 15 minutes more. Turn potatoes. Roast 10 to 15 minutes more until crisp. Sprinkle with remaining tablespoon of sage and serve.
Custom Search