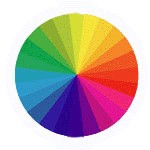 Color affects every aspect of our lives, whether we consciously think about it or not. We all know that babies respond more noticeably to bright, primary colors than to muted pastels, but it goes much farther than that. Colors affect our moods, our thought processes, and even our appetites. If you want the kids to eat more fruit, place a bowl of multi-colored fruits in a convenient place and watch those fruits disappear! Manufacturers and advertisers are very aware of color, and there is a reason for the bright-colored packaging of those cookies and cakes at the grocery store. Fast food places also know about the effects of color on the appetite, and almost all have some blend of bright red and yellow to make us hungrier. Lawyers and dentists use muted grays and blues in their offices to give us a calming atmosphere... and the list goes on and on.
In view of all this, it is important that any homeowner have at least a rudimentary understanding of how color transforms the space around him or her, not just in the garden, but inside the house, as well. There are four basic types of color schemes, and basic color combinations are below.
Monochromatic: The color schemes below use varying shades of one color. When done on a small scale, this scheme can be a show-stopper, but in larger beds it runs the risk of becoming monotonous. In the first example, blue is the chosen shade, with examples right to left including Thyme, Chicory, Larkspur, Cornflower, Grape Hyacinth, and Morning Glory. In the second example, pink is the primary color, with examples of Sweet William, Impatien, Echinacea, Rose of Sharon, Zinnia, and Chrysanthemum. Click any picture to read about the plant throughout this section..
Complementary: This color scheme uses colors from opposite ends of the color wheel, and these combinations make simple, effective garden statements that do not overwhelm. A few examples of this technique are below. Examples include blue-yellow, Grape Hyacinth and Daffodil, orange-light blue, Tulip and Chicory, violet-green, Dame's Rocket and Chervil, and red-pale blue, Rose and Lobelia.
Analogous: This color scheme uses next door neighbors on the color wheel.. Examples below include pink to purple and yellow to red. If you are particularly drawn to a certain group of colors, this may be a good choice for you. Pink to purple pictures include Flowering Chives, Foxglove, Clematis, and Periwinkle. Yellow to red includes St. John's Wort, Chrysanthemum, Scented Geranium, and Rose.
Triadic: This color scheme uses colors equal distance away on the color wheel. These combinations give a rich, diverse look to the landscape. Examples below include Rose of Sharon, Zinnia, and Calendula on line 1, Morning Glory, Foxglove, and Tansy on line 2, and Thyme, Hydrangea, and Scented Geranium on line 3.
Along with the four basic color configurations, one must also consider a place for white and grey in the garden. White beside any other color makes that color more vivid, and grey tends to soften vivid colors somewhat. Both white and gray can be used anywhere within the other colors or as borders for them or bridges between conflicting colors. Blues tend to recede in the landscape, making it look bigger, and bright colors such as yellows and reds tend to make it look smaller. And don't forget texture - ferns and large-leaved plants can make a real statement, and green is allowable anywhere in the garden, no matter what the color scheme.
Custom Search